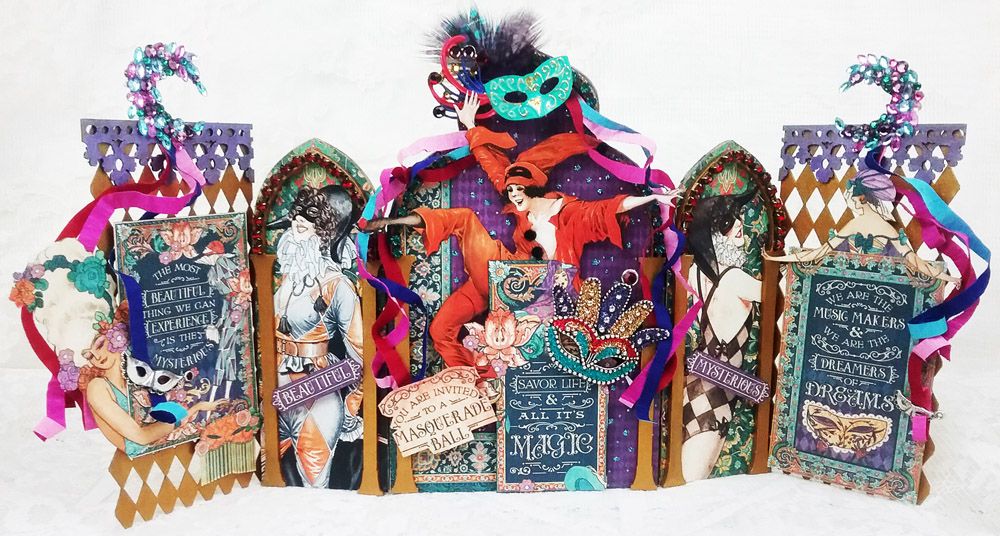 The new Graphic 45 Midnight Masquerade paper collection and the Taj Mahal Triptych

are the inspiration for this colorful piece.
The scene depicts costumed masked ladies reveling the night away; who wouldn't want to go to this party!
I think my favorites are the metal masks which are decorated with paint, rhinestones, glass glitter, and feathers, and the
colorful steamers made from high-quality double sided dual color heavyweight crepe paper that can be stretched (not the thin kind you buy in rolls for parties).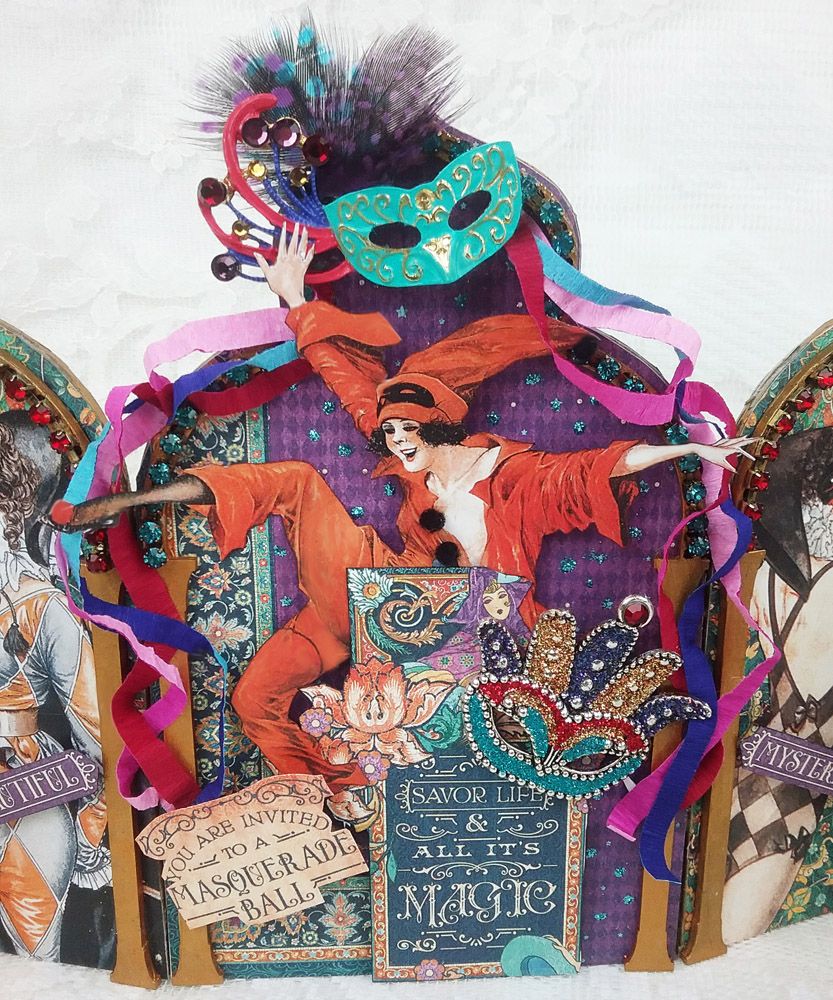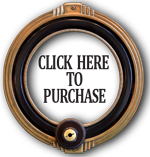 NEW BEJEWELED COLLAGE SHEET
This sheet contains 25 unique moon designs. The large moons are repeated, with one facing right and one facing left. There are smaller versions of each of the moons with some duplicates.
The base of the piece is made from the chipboard triptych kit pictured below.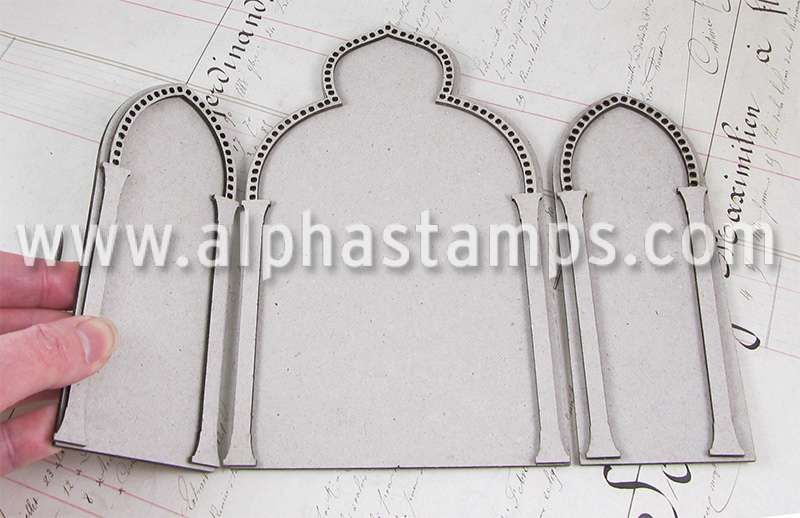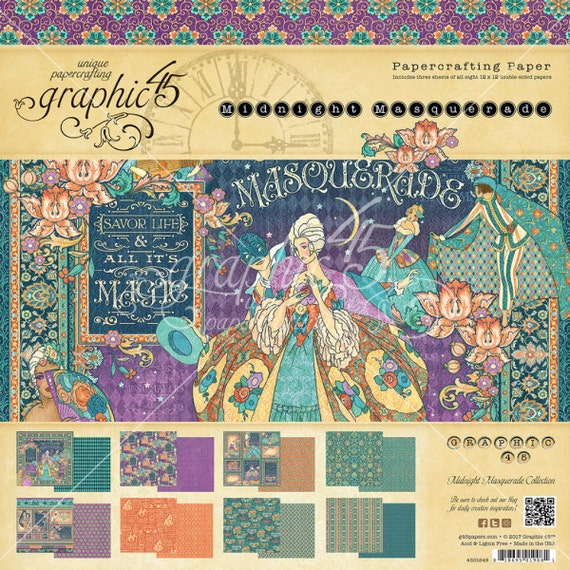 I started by covering the front and back of the triptych with the Graphic 45 papers.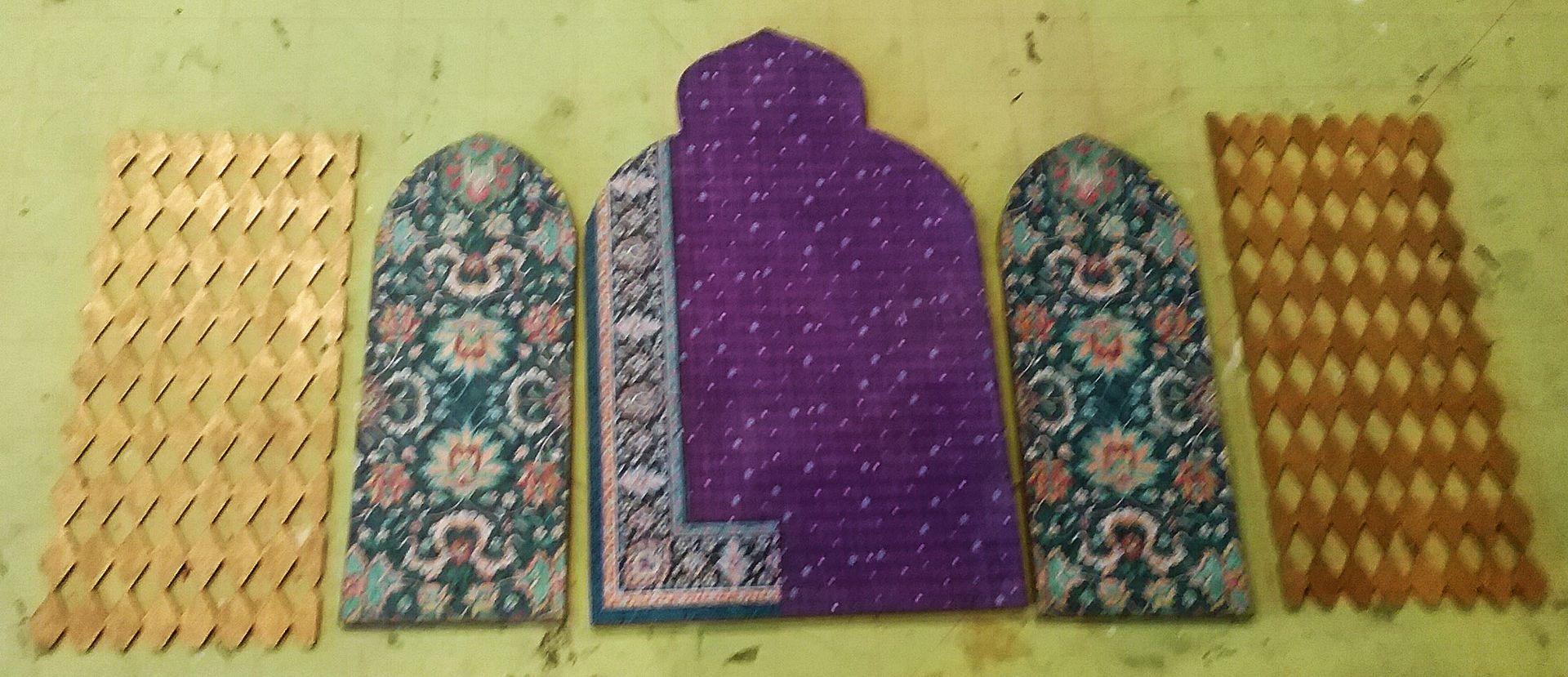 I cut the 6 x 6 diamonds texture sheet in half and painted each piece gold.
To add sparkle to the frame pieces, I attached rhinestone chains. The chains come in four colors (I used 2 of the colors, ruby, and aquamarine) and bend easily to conform to any shape.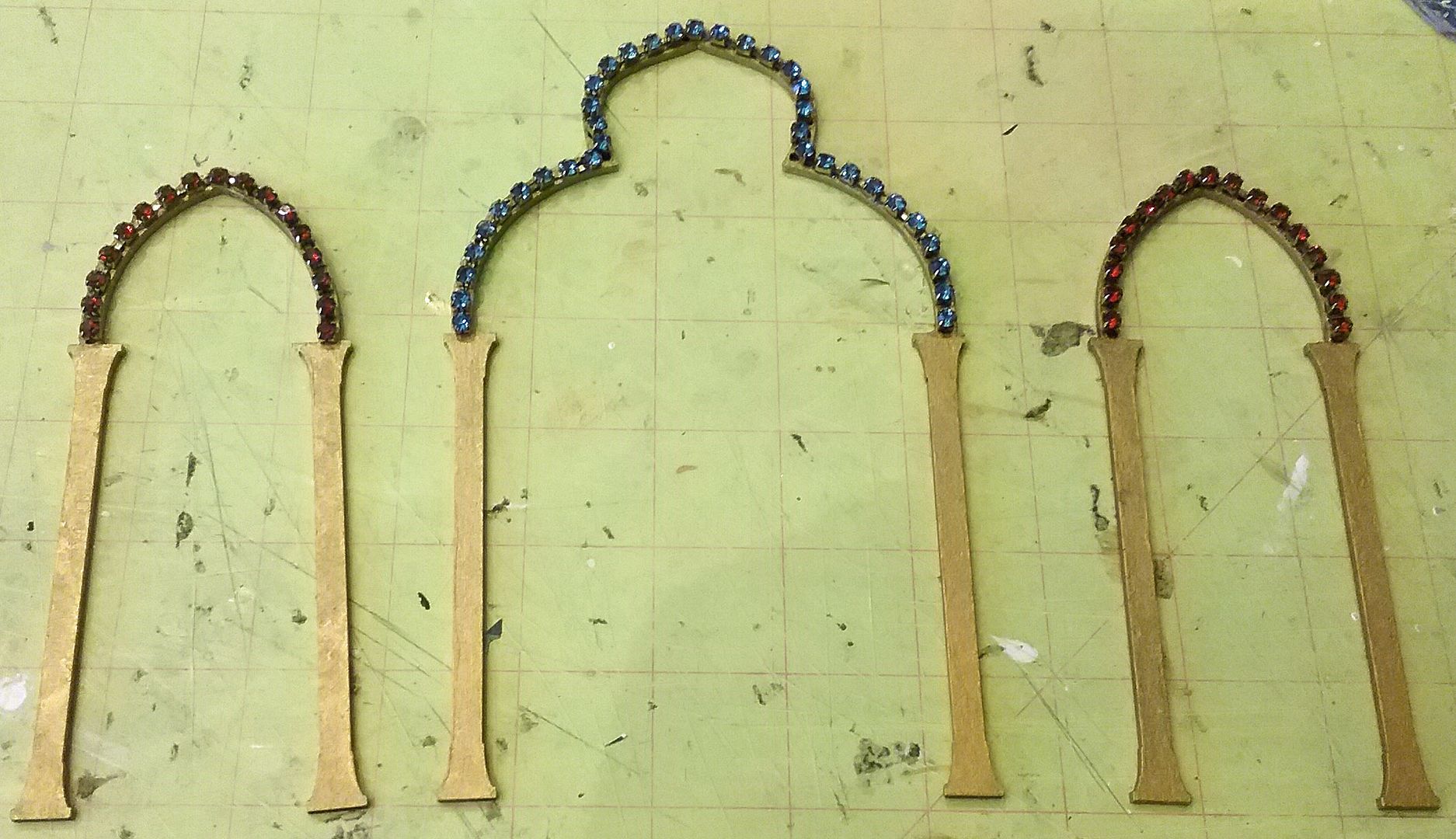 To the top of the chipboard diamond sheets, I added chipboard Fleur Border pieces painted purple.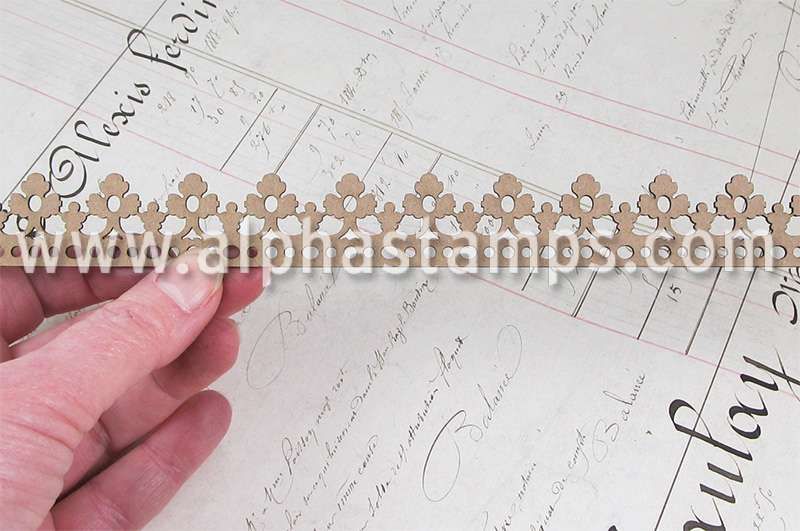 The moon is from my new Bejeweled Moons collage sheet.
The image of the moon was made up of rhinestones. To create more sparkle and dimension,
I added real rhinestones, placing them over the rhinestone images.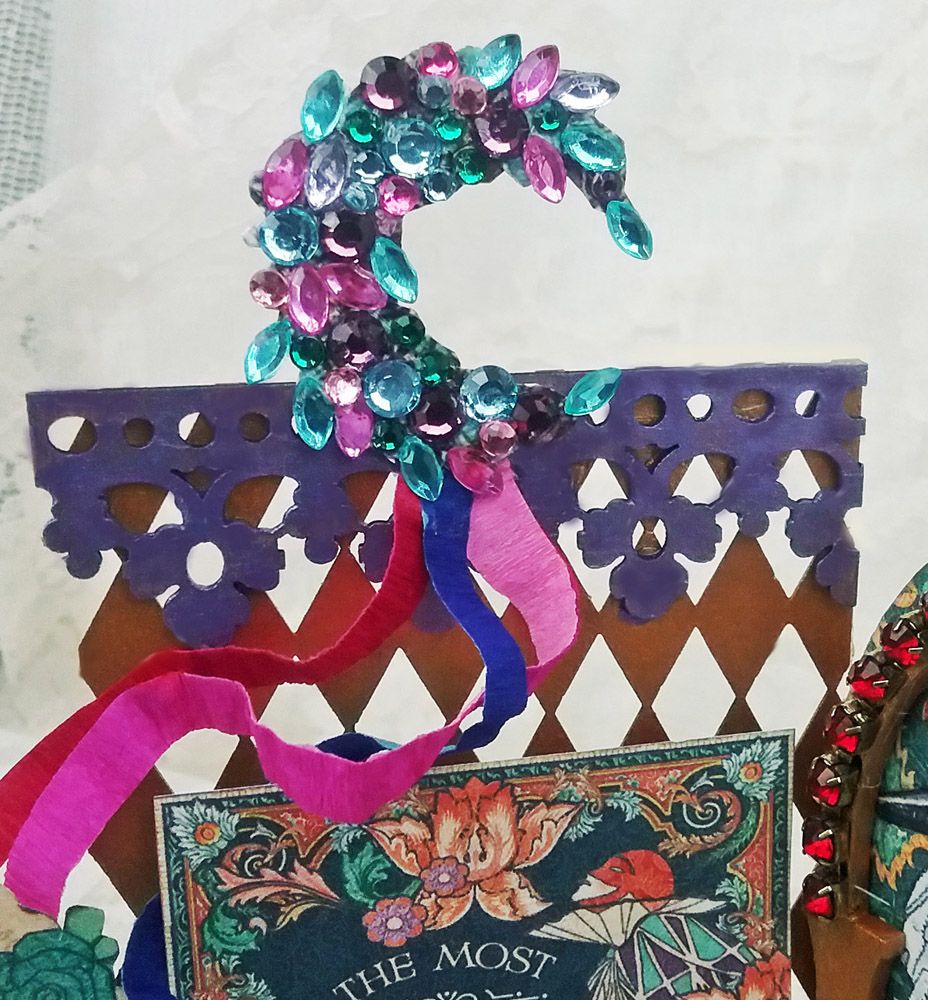 NOTE:
If you don't have
rhinestones
or they are not the right color, you can use Glossy Accents to create
dimension
. If you have clear rhinestones, you can paint them with Alcohol inks which will change the color of the stone without losing the transparency and sparkle of the rhinestone.
I added the images to the pieces before using E6000 to glue the pieces together.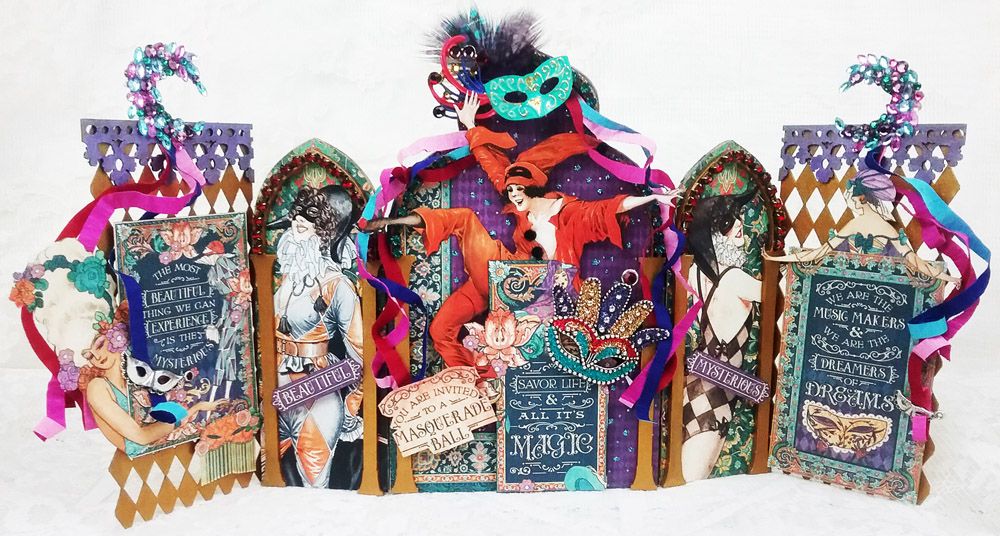 I've used an Embossed Gold Mask with Feathers

on the top center of the triptych. Parts of the mask are painted teal, red and blue. I also attached plum and yellow rhinestones and some plum and teal feathers.
On the bottom center of the triptych is a Large Fancy Silver Mask Charm to which I adhered teal, red, purple, and gold glass glitter.
NOTE:
I used a straight pin to gently remove the glitter from unwanted areas of the mask.
The streamers are cut from double-sided sheets of crepe paper with two shades of the same color. The paper is from the Crepe Paper Sampler Set, which includes
twelve
5" x 5" sheets (in different colors). After cutting out strips of paper, I gently stretched the paper and twisted it before gluing it to the piece.
I anchored the side streamers using two different silver mask charms.
NOTE:
The paper only stretches in one direction so test it before cutting the strips so that they will stretch.