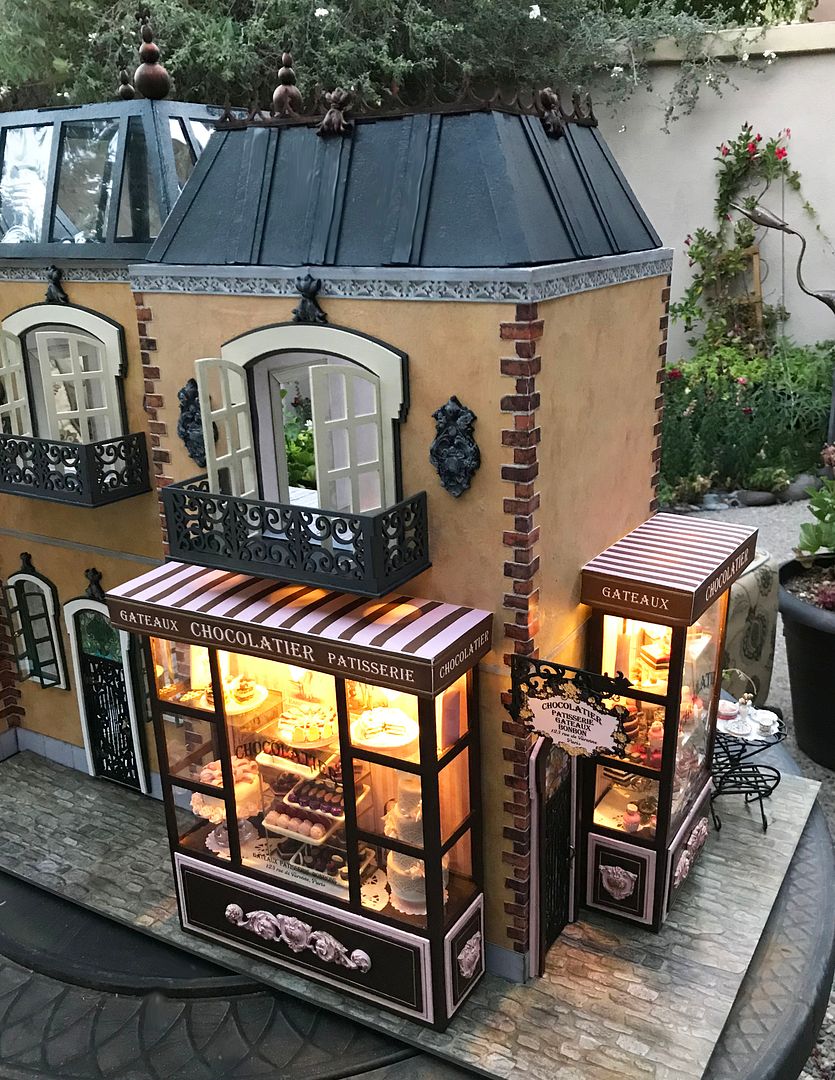 Good news,
the first of multiple tenants has moved into the building, and it is the Chocolatier.
Surrounded by beautiful bay windows crammed with delicious treats and shaded by pink and brown awnings, the Chocolate Shop is a lovely addition to the building.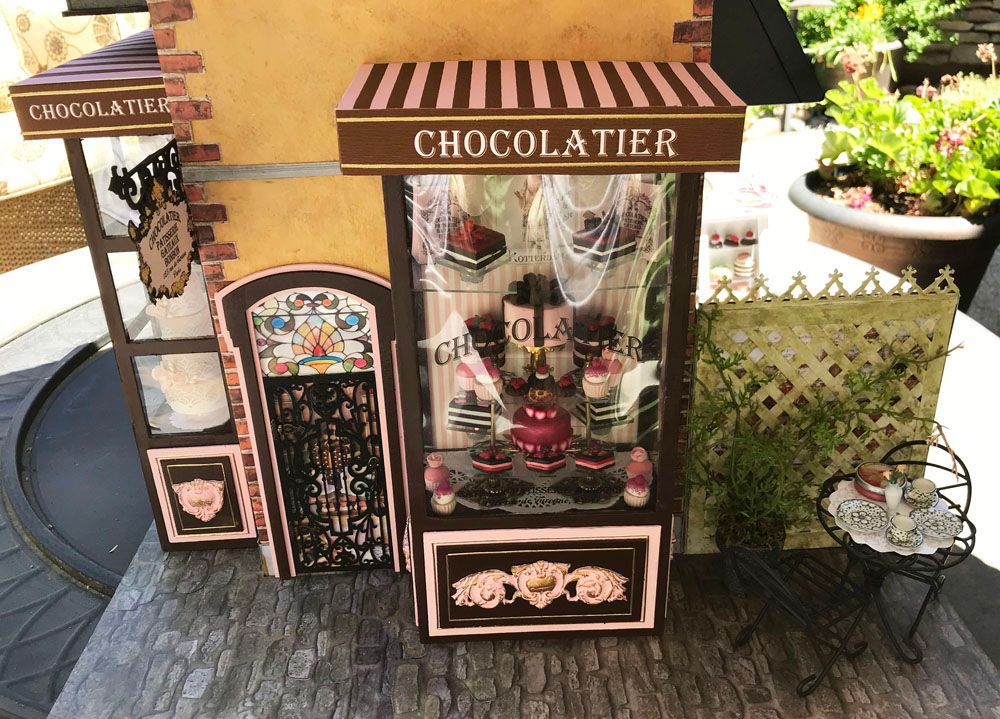 At night, the lights in the windows illuminate the sweets.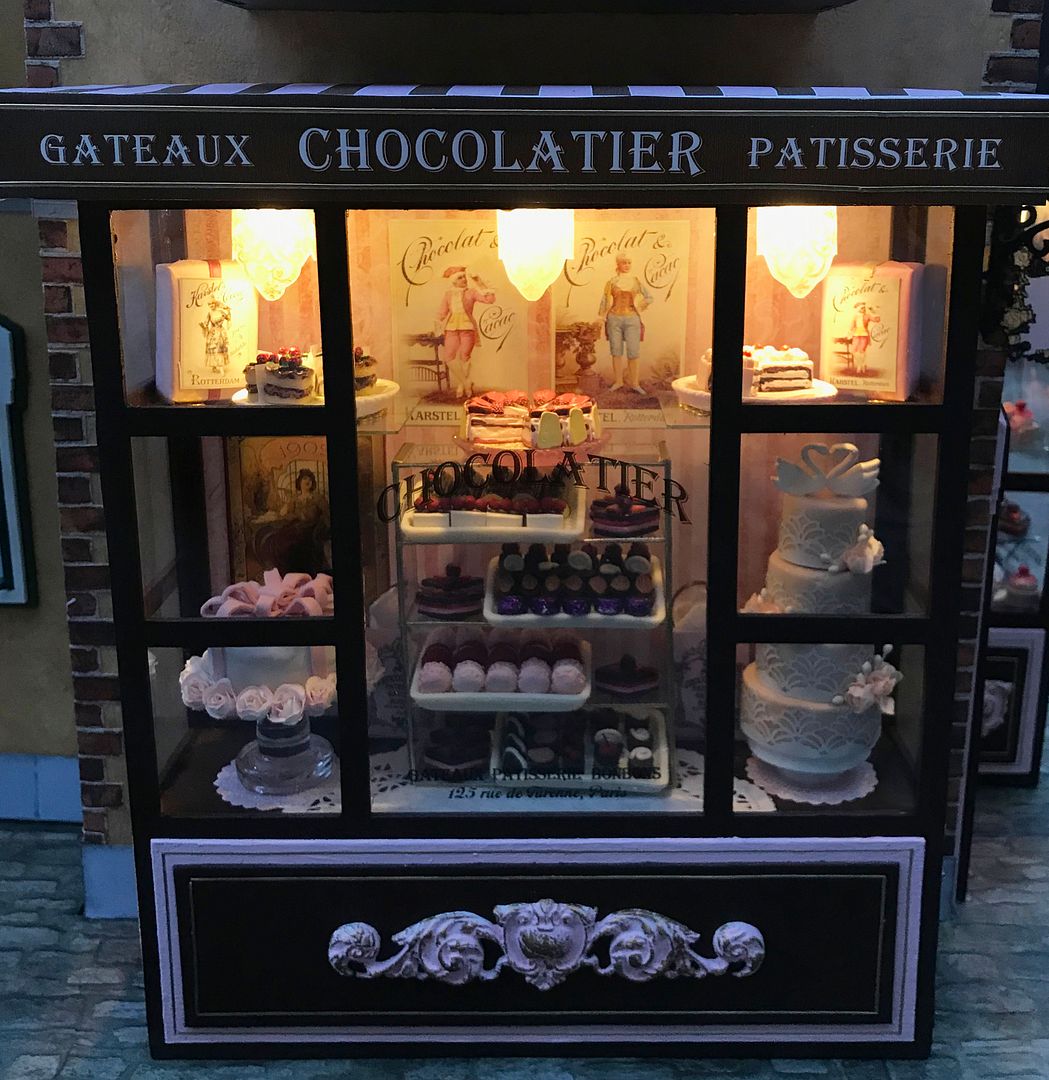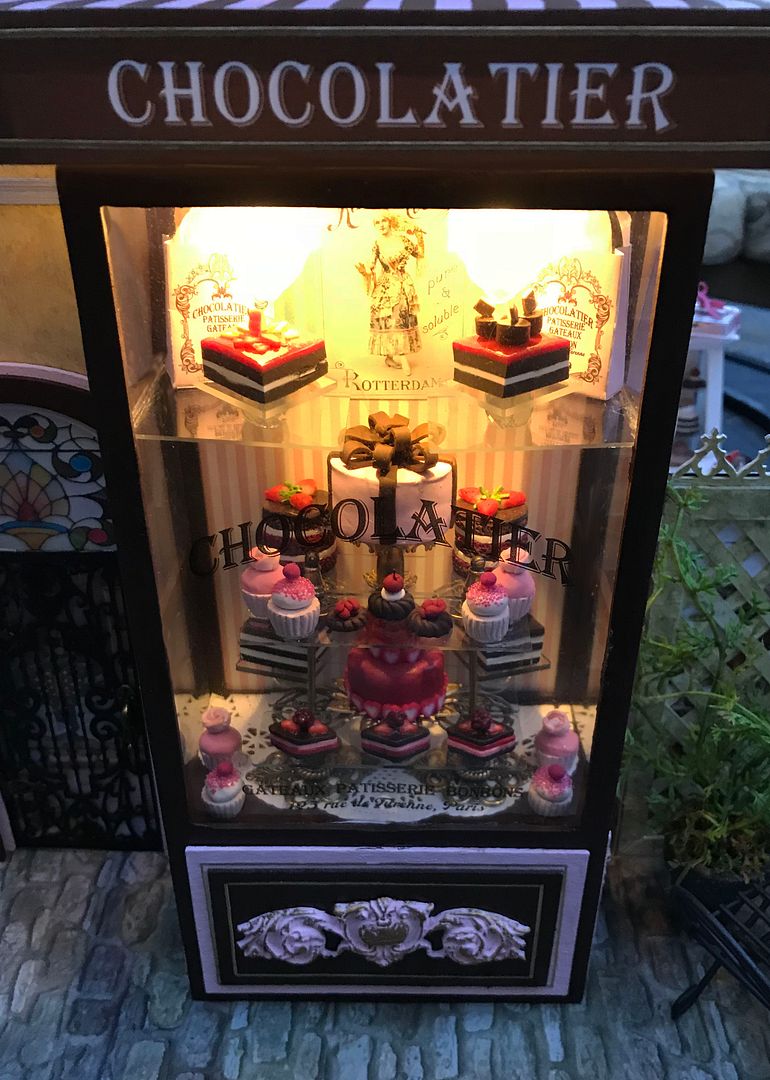 On the side are a cute wrought iron table and chair set accented with a trellis and potted plant, a perfect place to sit and enjoy your purchases and a cup of tea.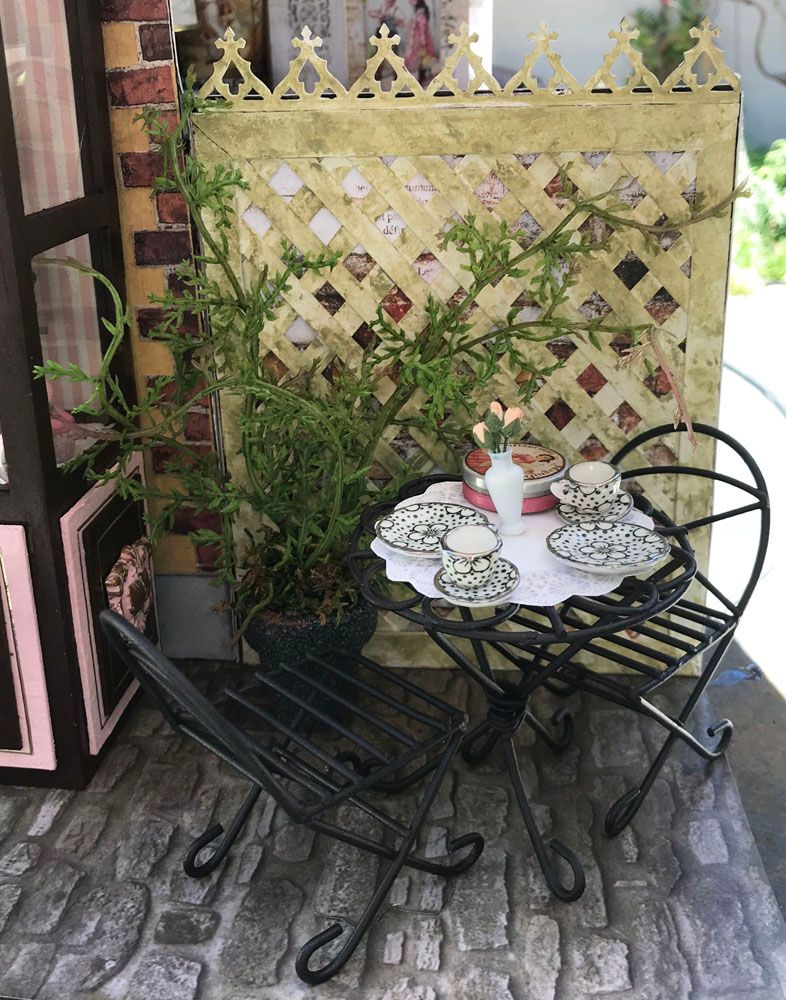 The inside is bursting with even more goodies displayed in cabinets, glass shelving, and glass cases. From the ceiling hangs soft lighting (made with tea lights & vellum.)
The pink bags and boxes sitting around the store are from my NEW Chocolate Shop Bags & Boxes collage sheet.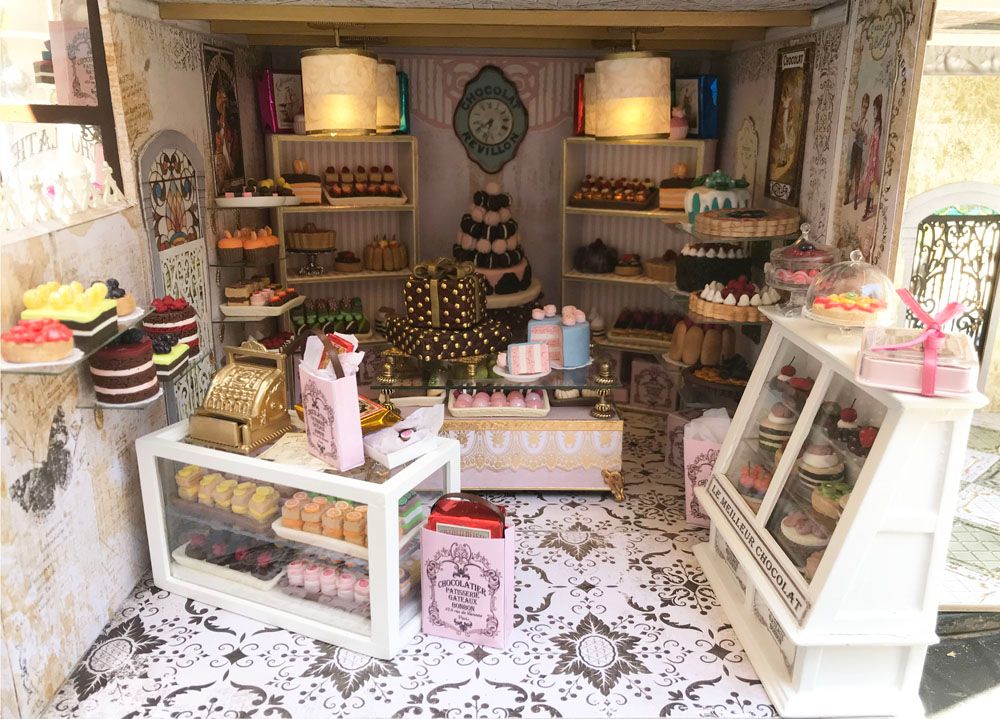 To complement the shop, I've created a NEW Chocolate Shop collage sheet filled with posters, signage, and other shop-related images. There is also a NEW digital image set which contains everything that you will find on the Chocolate Shop and Bags & Boxes collage sheet, plus several awnings and more posters and shop related images. The image set details are below.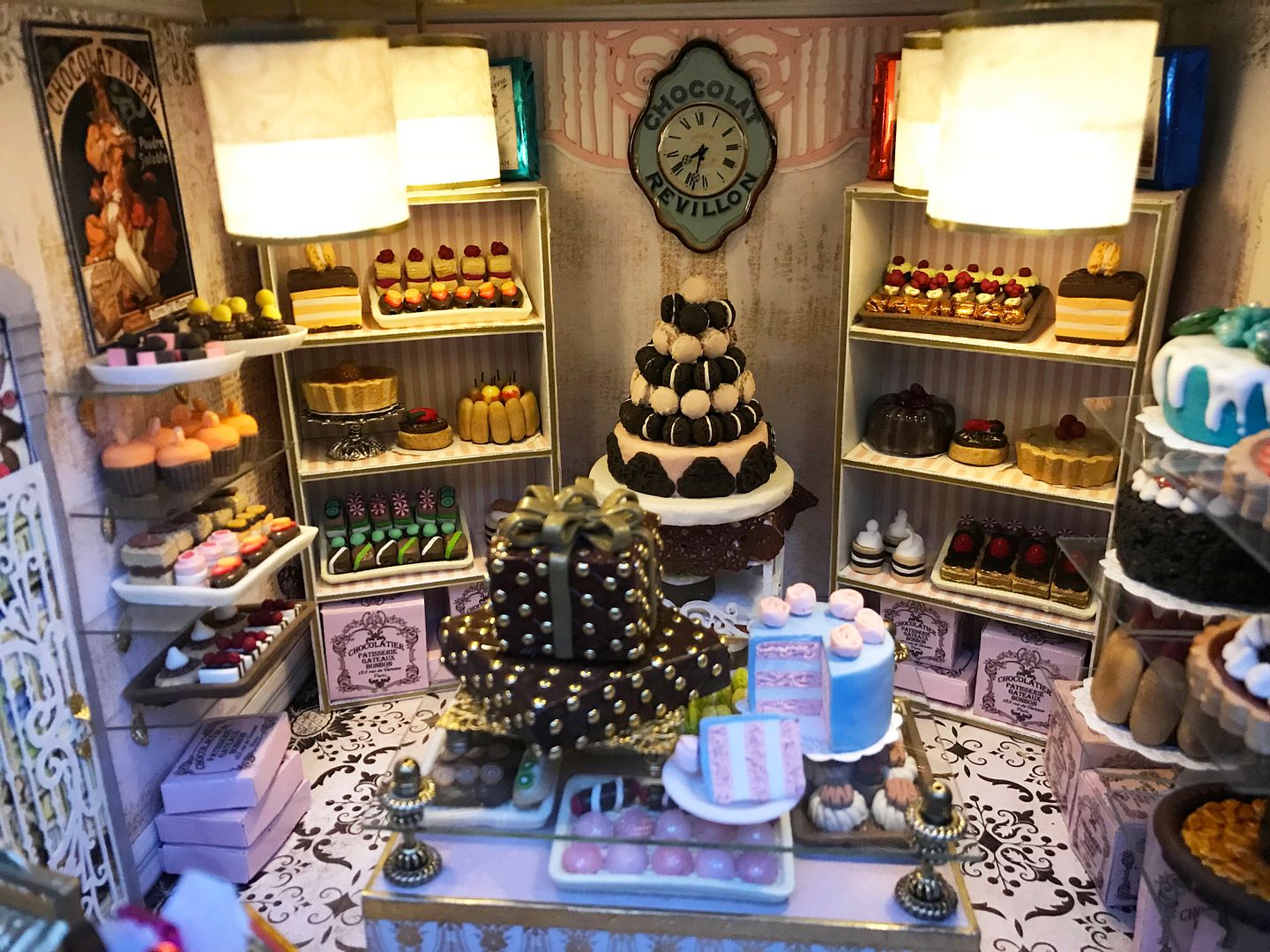 The bay windows, which I think are the star of the shop, are made using easy-to-assemble chipboard kits. I've used two of the three styles for the Chocolatier. The new Chocolate Shop digital image set contains a series of awnings that are sized to fit the new windows.
In this video tutorial, I'll cover architectural changes I made to customize the store, additional furnishings, lighting, bay windows, a wraparound sidewalk, signage, and new image sets.
This collage sheet includes images to decorate the inside and outside of a chocolate, patisserie, or cake shop. Included are posters, signs, a clock, and chocolate-themed invoices. Click on the image below to purchase this collage sheet.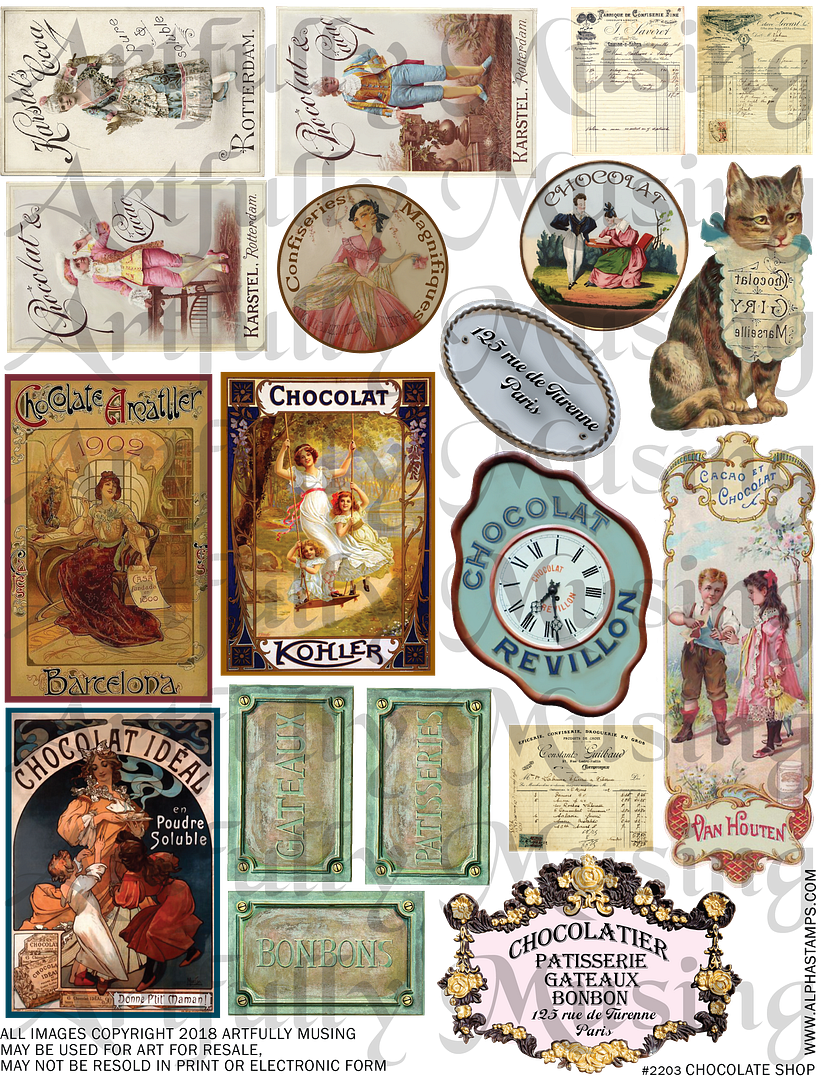 This collage sheet contains a variety of Chocolate Shop box and bag designs and sizes. Some labels fit the round and square cookie tins and the narrow matchbox carried by AlphaStamps, a label that fits a standard small matchbox, and various other sized labels.
Click on the image below to purchase this collage sheet.
CHOCOLATE SHOP DOWNLOAD - DIGITAL IMAGE SET
This digital image set includes items to decorate the inside and outside of a chocolate, patisserie, or cake shop. There are 69 images, including those found on the Chocolate Shop & the Chocolate Shop Bags & Boxes collage sheet. Images included are listed below
Paris Shop Scene
Wrought Iron Door
Clock
15 Posters
6 Signs
2 Window Glass Signs (These fit the 2 column and large center window rectangular bay windows)
7 Bags & Boxes
4 Invoices
Five sets of easy-to-assemble window awnings in three styles. Two of the styles come in both large and small sizes. Included are trim pieces with lettering and trim without allowing you to customize the trim. The awnings fit the three styles of Rectangular Bay Windows, or you can use them over the windows and doors of the French Quarter Two Story Room Box.
To purchase this digital image set, click on the image below.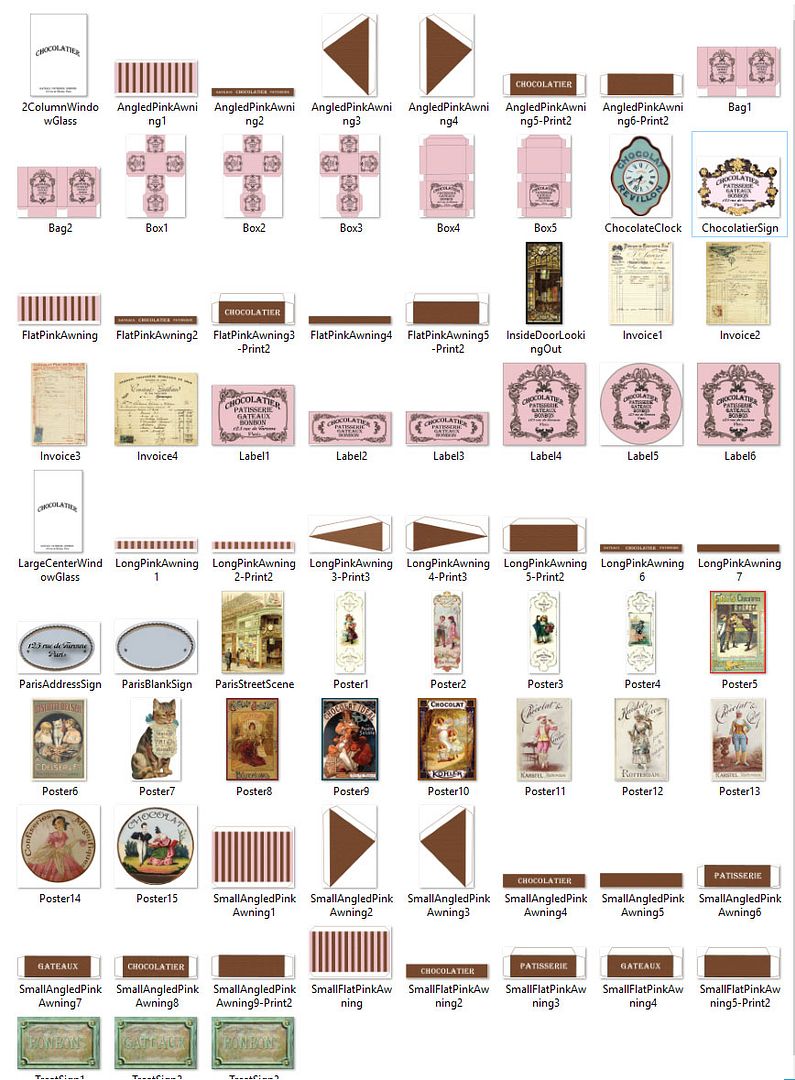 NOTE: Since I have covered making the sweets and display cases in other videos, in this tutorial, I'm going to focus on putting the Chocolate Shop together.
Architecture Trims Download - Digi Image Set
– White Tile – Ceiling
Scalloped Gingerbread Trim Strips
– Trellis Extension
¼ Inch Square Wooden Dowels
– Ceiling Supports
Baroque 3 – Medallion & Filigree Silicone Mold
– Window Accents
5 Inch French Doilies
- Windows
Rectangular Bay Window – 2 Columns
Rectangular Bay Wind – Large Center Window
4" Brown Glassine Paper Doilies
– Used on the table
Wrought Iron Shadowbox Header
Miniature Vintage Cash Register
Dazzles Gold Thin Lines Stickers
– Windows, Lighting, Glass Shelves Trim
Miniature Creeping Vine Garland
Chipboard Wrought Iron Flourishes Set
1-1/2 Inch Tall Wooden Flower Pots
Folding Screen Fretwork Insert
Miniature Antique Brass Door Pulls
Pair of Fancy Mini Hinges w Pins
Raw Brass Long Filigree
– Square - glass shelves
Rectangular Bronze Filigree
– Bay window glass shelves
Elegant Borders Clear Stamps Set
Antique Gold Rope-Edged Rondelles
– Used 2 per light
Victorian Gold Metal Patinas
Paint
Remnants Scrapbook Paper - Beaumont
– I used 4 sheets, including the extension. If you don't do the extension 3 sheets are enough
Remnants Scrapbook Paper - Mini Remnants - Floor
Red, Ivory & Pink Patterns Scrapbook Paper Set
– Used the pink strip for a window. I'll be using the red stripe for the Café window.
Heartland Scrapbook Paper
– Red Rose Ball – Used for a window