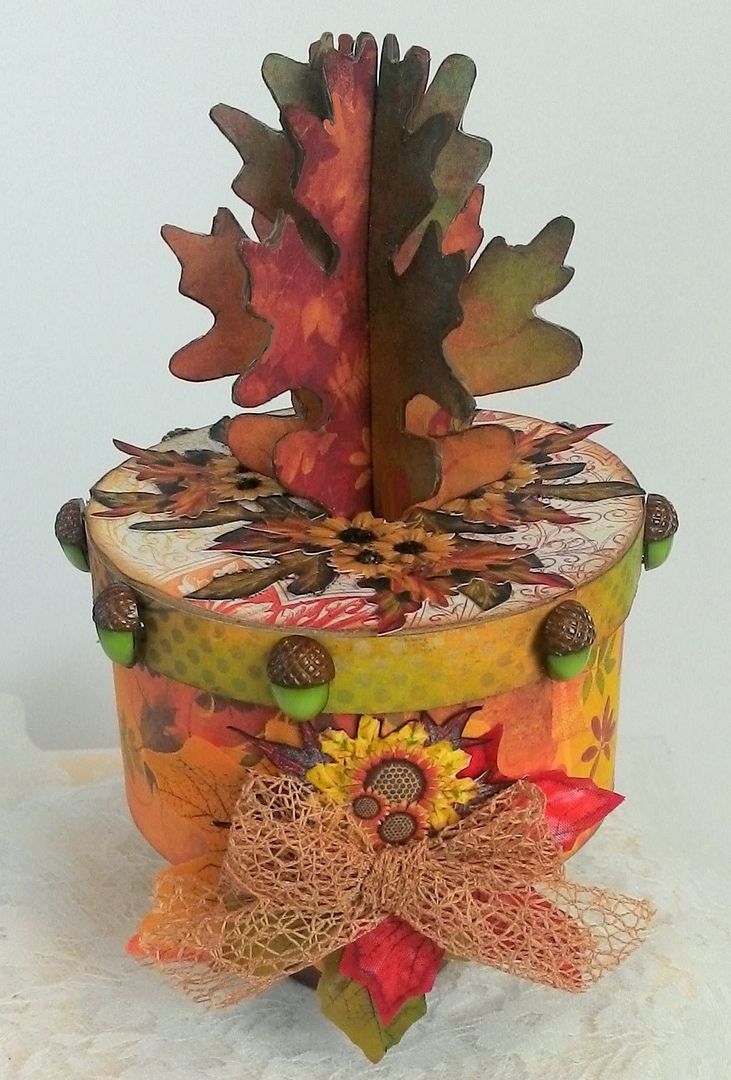 How about decorating a
round paper mache box
in a fall theme and using it as a treasure box or as part of a centerpiece.
The topper is made from 3 chipboard leaves that serve as decoration and also as a handle to lift the lid from the box. Although I used leaves, you could use this technique for lots of other chipboard shapes.
How to Make the Leaf Topper
First, paper or paint your leaves.

The leaves below are undecorated as they are just for demonstration purposes but you will want to decorate yours first.

When papering items that don't have straight edges I use sandpaper to help remove the excess paper.

Cut two of the leaves in half.

I inked the edges of the chipboard after they were papered and cut.

Because the stems of the leaves are so narrow, I cut them off.

Depending on the shape you are using you might want to cut something off of the bottom of the shape if it is narrow like the stem of the leaves.
Paint or paper your box lid.

Mark three cut lines at the center of your box lid as pictured below (of course yours will be papered and or painted) and use an X-acto knife to cut the lines.

This is where you will be inserting the leaves into the box lid.

The length of your lines depends on the shape you are using and how far you want to insert the shapes into the box lid.

I inserted the leaves I used about 1/2" into the box lid.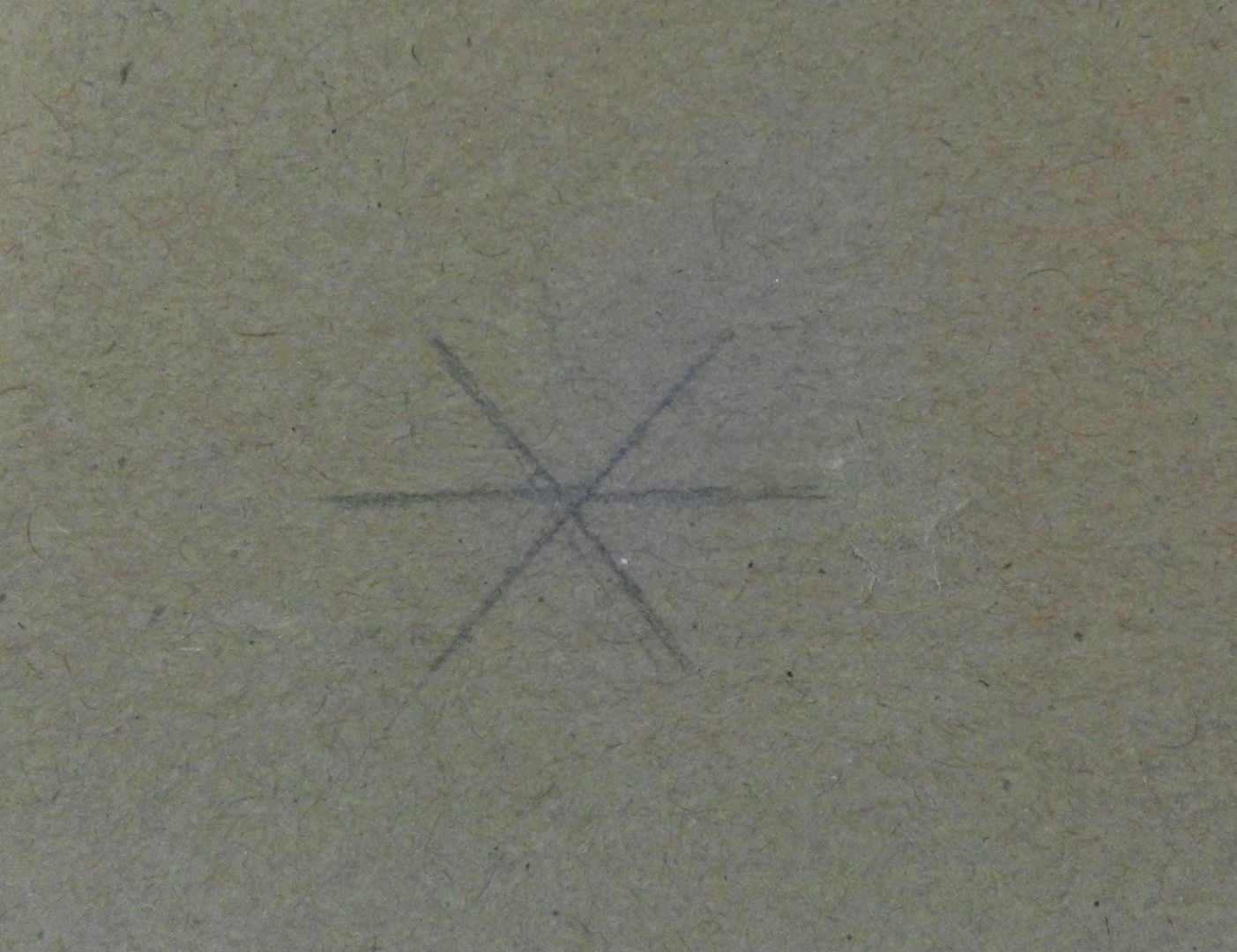 Insert the full leaf first.

Next, insert a half leaf and glue it the full leaf where the two meet.

Continue inserting and gluing the half leaves.

You are reassembling the cut leaves with each other but with the full in between. Note: when working with a shape like a leaf where each side of the leaf is not exactly the same, make sure that when you glue the half leaves in place you are gluing each side of the same leaf across from each other and in between the full leaf.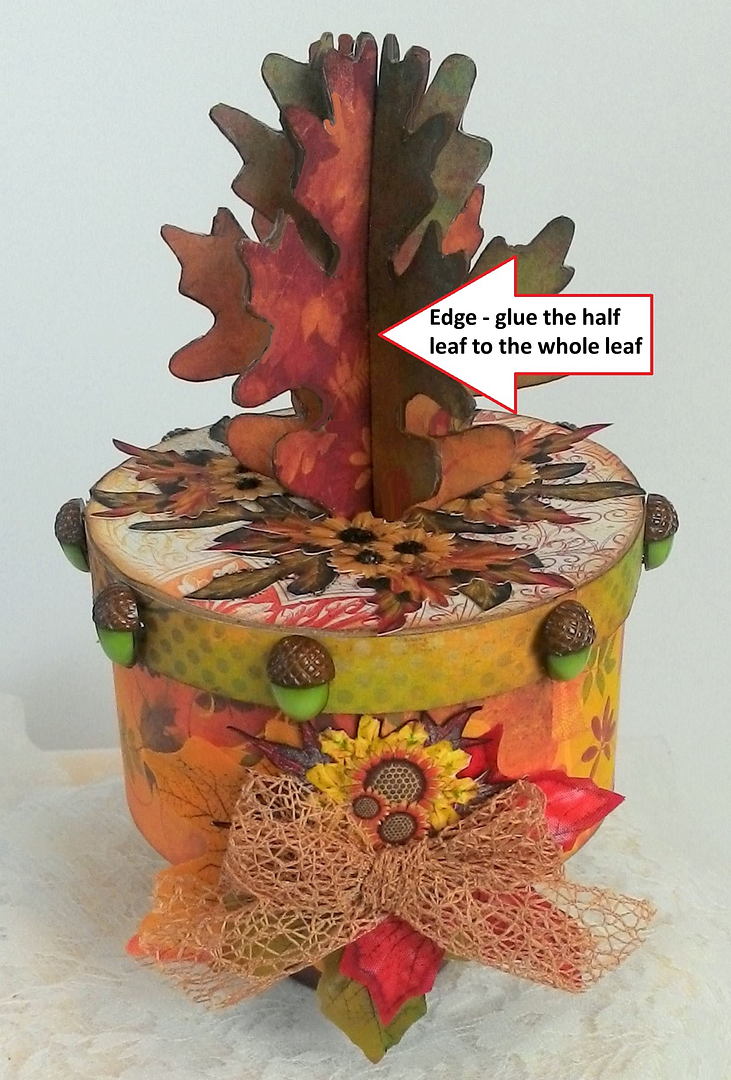 Once all of the leaves are in place and the glue has dried, you might want to add a little glue to the part of the leaves that are inserted in the box (inside the lid) to keep them from being pulled out when you use them to lift the lid.