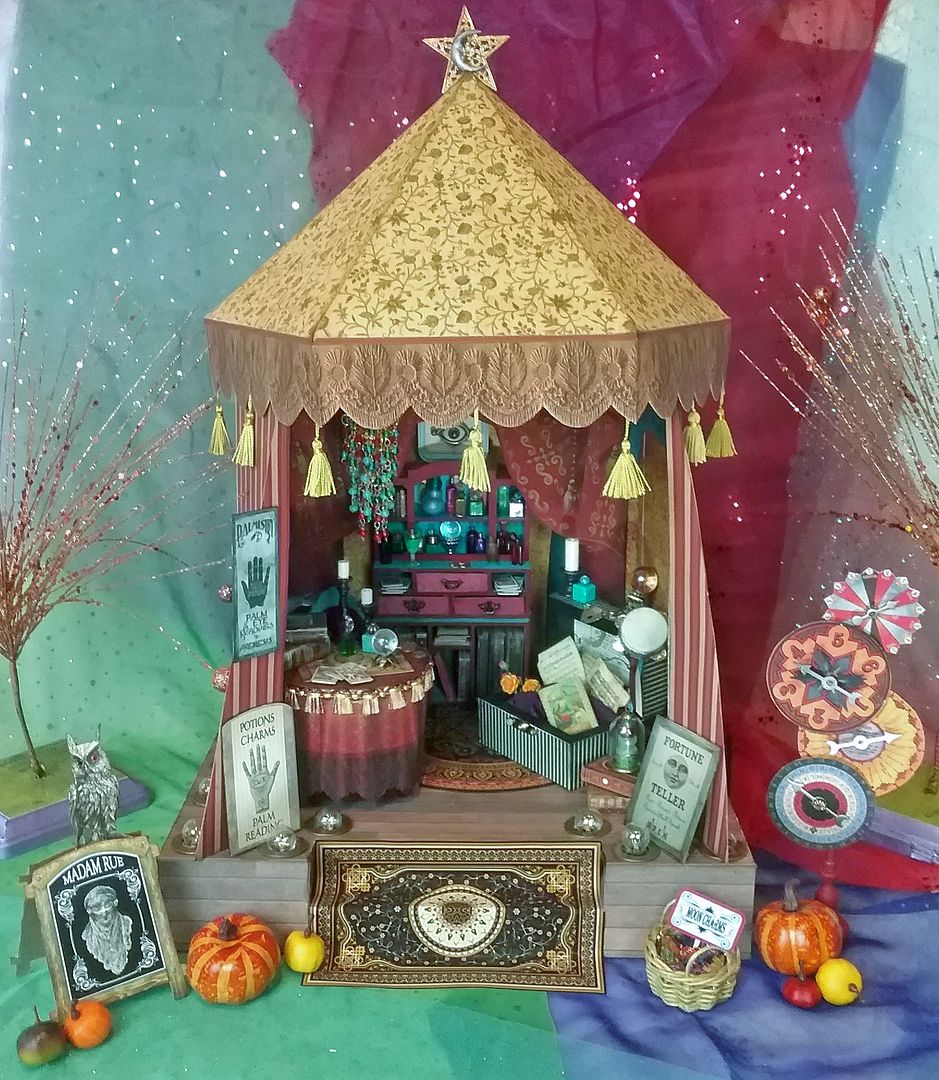 Welcome to the mystical world of Madam Rue. She has the gift of sight, which can reveal your future and explain your past. Only she can lift the veil of mystery and connect to the regions beyond.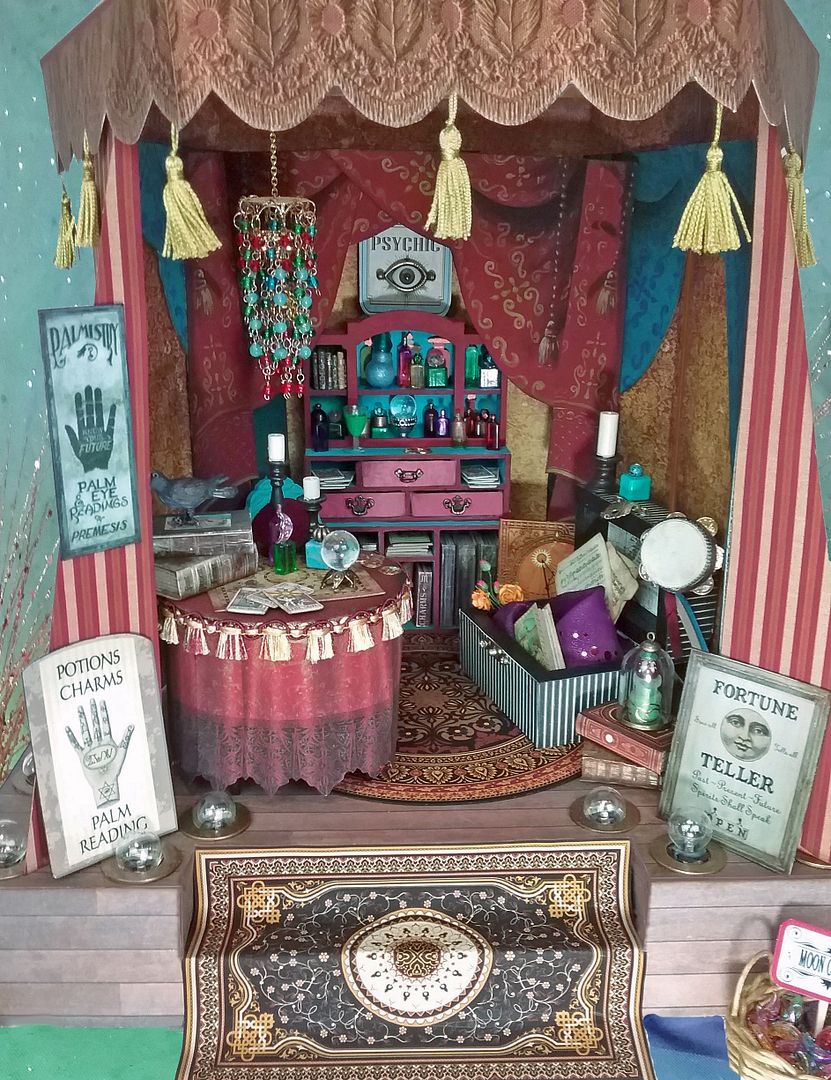 If a revelation is not what you seek but instead a charm or potion, you have come to the right place. Is it love, fame, fortune, or perhaps release from a curse?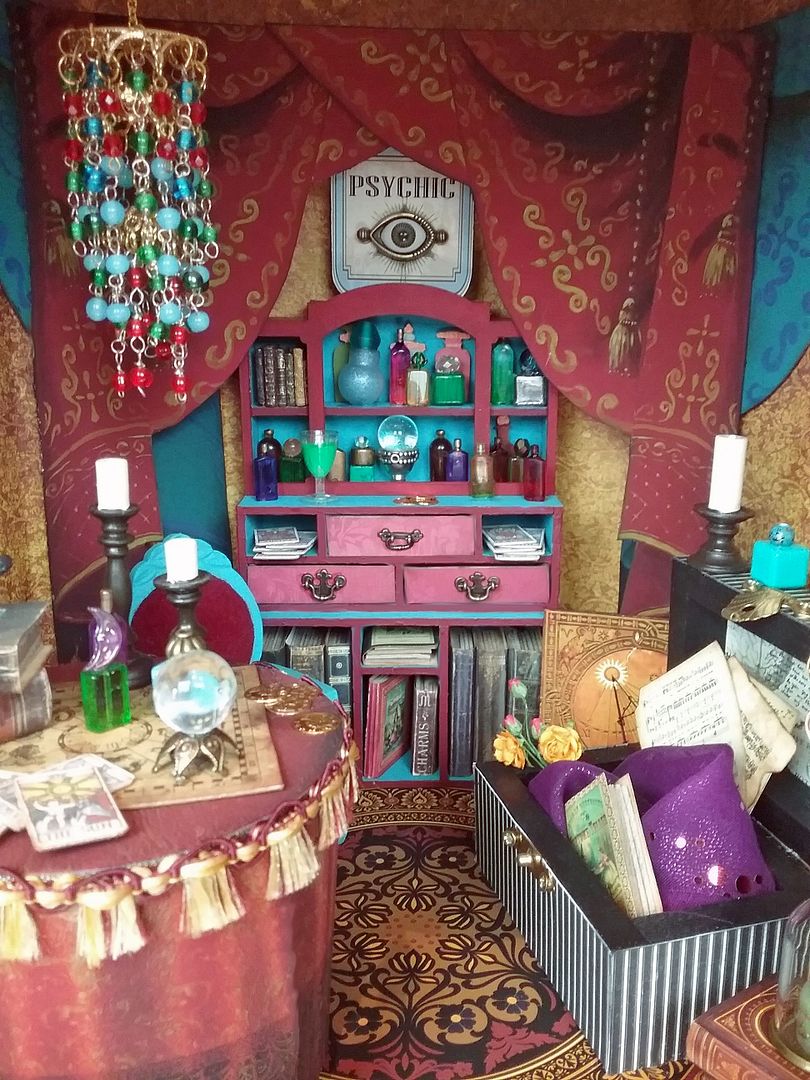 Or maybe the sound of her tambourine and her melodious voice drew you here.
Be not afraid; step inside, and your destiny awaits.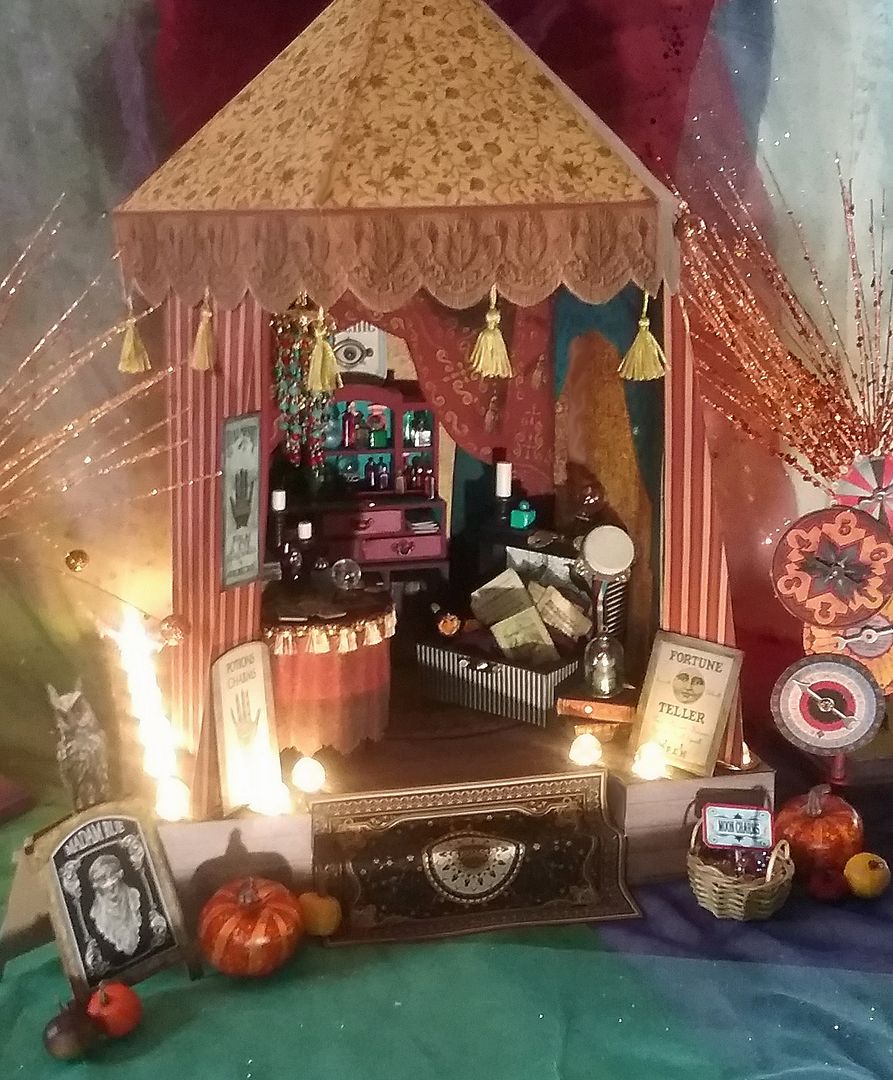 Here comes another Halloween project, although I'm thinking gypsies are never out of season.
For those who have built or are building the Halloween Carnival, this is a piece you might want to add to your display.
My choice of a jeweled-toned color
palette
comes from looking at pictures of gypsy caravans, where I noticed bright colors, fabrics, beading, fringe, and bling.
What did I love the most about this project?
I think the mini globe lighting is right at the top.
I wish I could go back to some of my older pieces and use the lighting.
It would also look cool with the Mad Scientist Lab from earlier in the summer.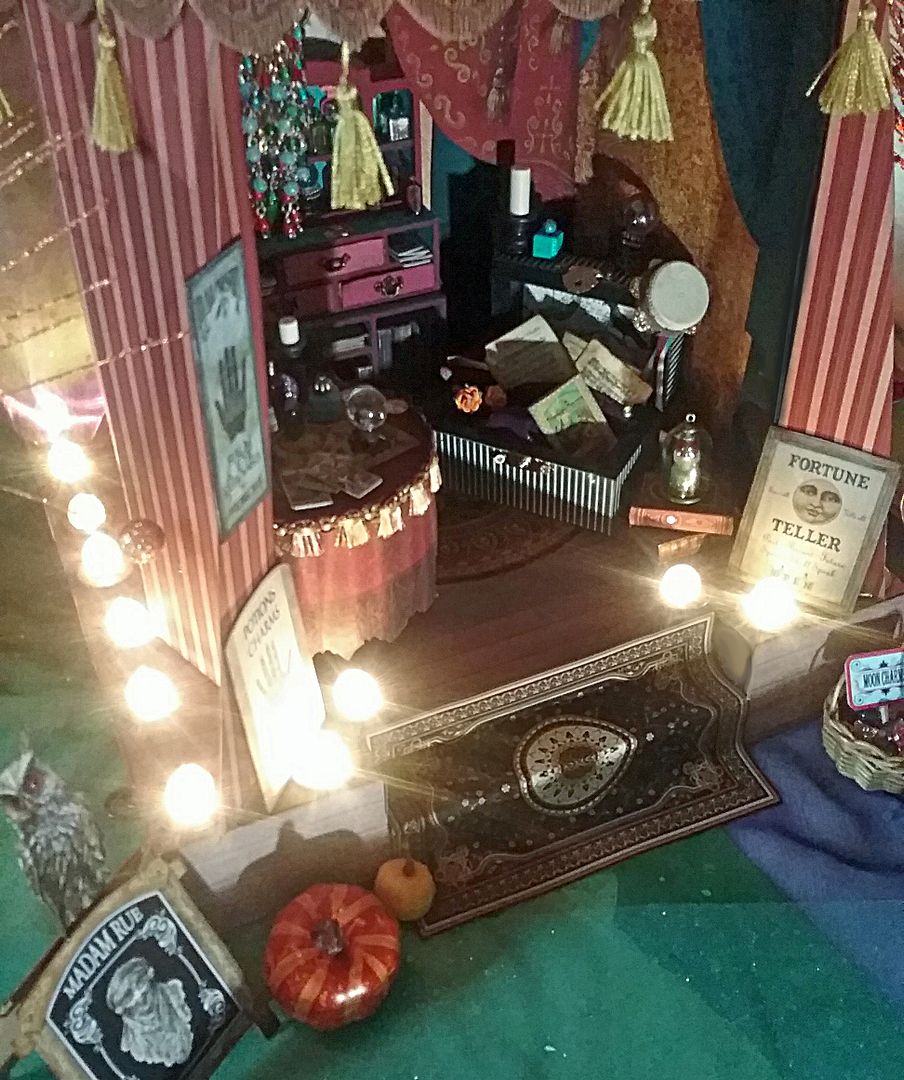 I also love the furniture made from either a kit or unfinished wood items. My particular favorite is the 3 Panel Hutch sitting on top of a Library Table.
The furniture pieces could easily work stand-alone or as part of another one of your projects.
Don't sweat the details; there is a video tutorial where I'll walk you through creating Madam Rue's tent.
I've cooked up some new gypsy fortune-teller-themed images for this project. I also used some of my Old Books & Papers Digital Image Set.
GYPSY FORTUNE TELLER COLLAGE SHEET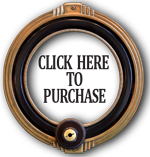 This sheet is a collection of mystical items. There are books on palm ready, fortune telling, crystal ball reading, and more. A seer into the beyond might need various business signs, tarot cards, and other odds and ends.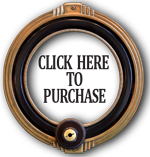 This set is a collection of mystical items that a seer into the beyond might need. In addition, the set contains images that you can use to create and outfit a gypsy tent. All of the images in the Gypsy Fortune Teller Collage Sheet are included, plus a tent top panel, tent side panel, and images to decorate a table, curtains, and rugs for a total of 38 images.
All of the images in the set can be re-sized for your project as they are high-resolution (300dpi) PNG formatted images.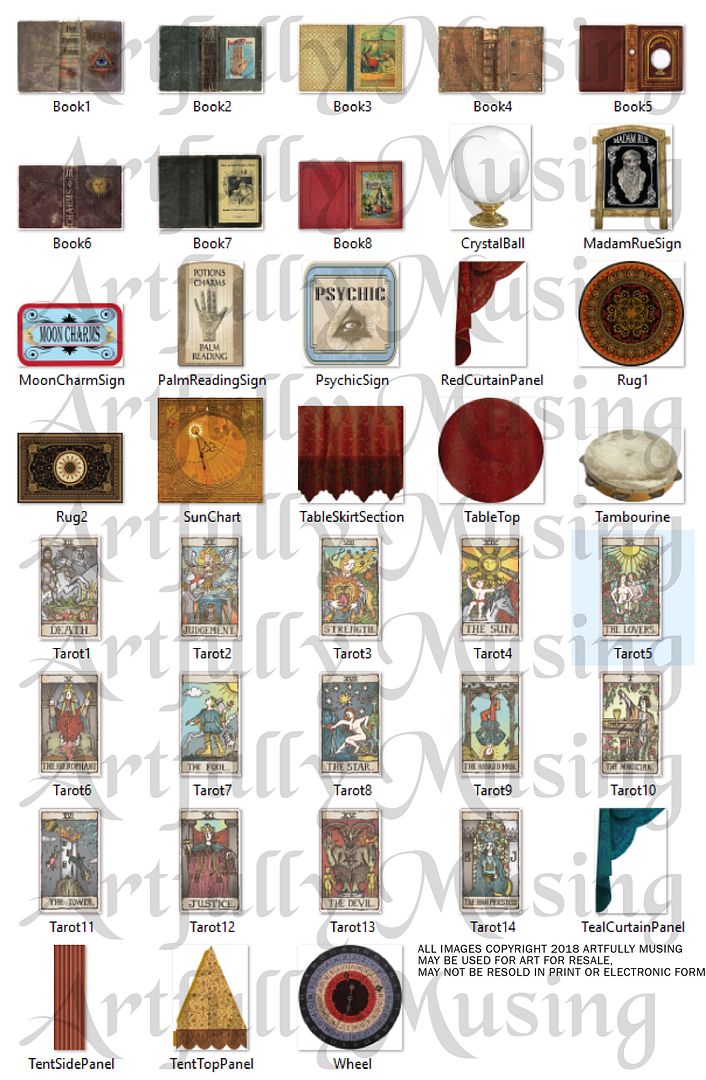 This collage sheet contains 15 different lanterns, with two of each style the lantern, for a total of 30 images.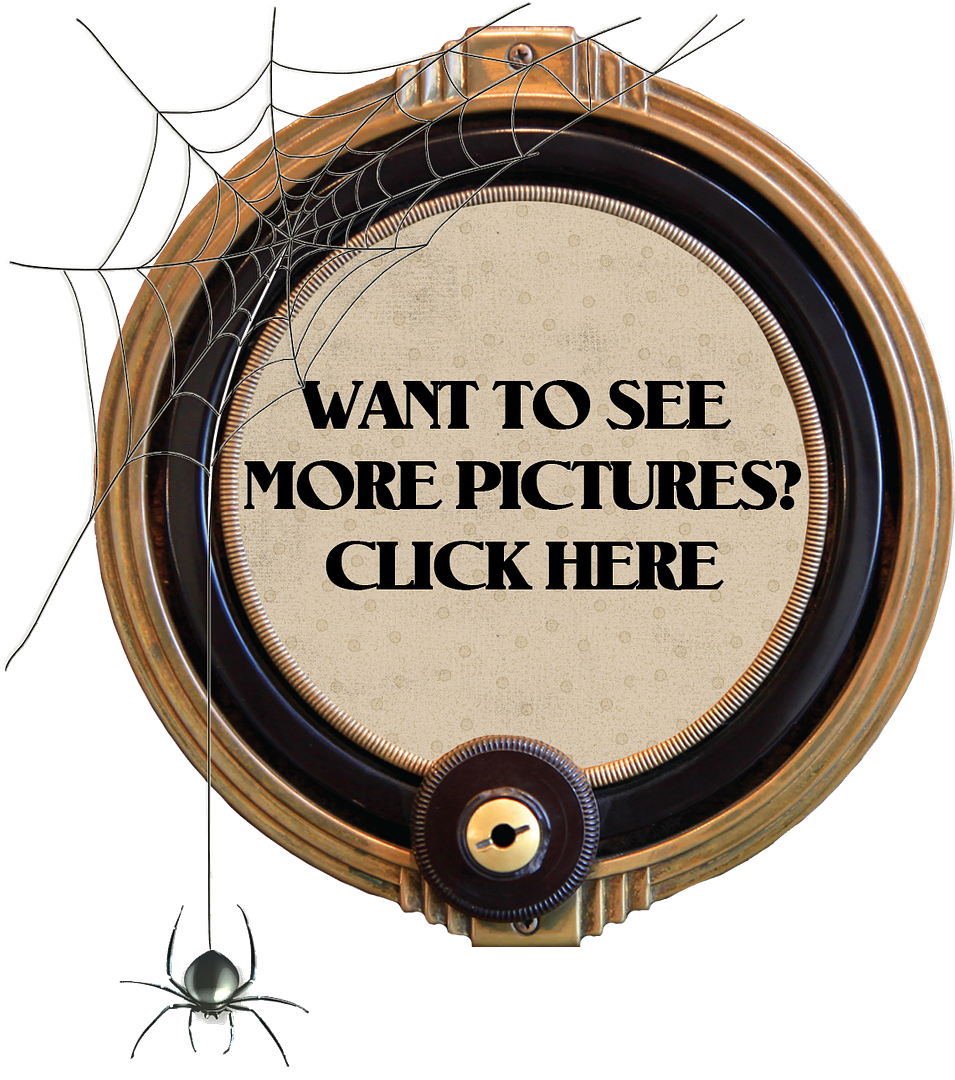 COLLAGE SHEETS & PAPER
Gypsy Fortune Teller #3 Collage Sheet
Games & Spinners Collage Sheet
Wood Flooring Scrapbook Paper
Double Dot Vintage Gingerbread Scrapbook Paper
Love & Lace Cherish Scrapbook Paper
CHIPBOARD KITS, FURNITURE & LIGHTING
Platform with Steps - 1:12
3 Panel Hutch
Library Table
Unfinished Round Table – Spindle Legs
Armchair with Red Velvet Upholstery
Hinged Wood Chest with Clasp
Antique Brass Mini Fleur de Lys Handle
Antique Brass Mini Oval Drop Handle
Cleveland Vintage Mini Globe string lights
EMBELLISHMENTS
Wood Finial Chess Pawns
American Crow
Black 3-Piece Candleholder Set
Fancy Swirl Bead Caps
Mini Glass Domes - Bronze
Iridescent Crescent Moon Beads
10mm Clear Glass Marbles
Silver Cup Box Feet
Row of Old Books – Resin
Eyeball Cabs in Settings
1 Inch Fancy Gold Filigree Base
Fancy Looped Gold Filigree Base
4mm Beaded Chain – Red & Green
Miniature Wine Glasses - Set of 4
Miniature Pumpkin
Tiny Paper Roses - Orange
Mini Rose Buds - Red
1 Inch Mini Tassels - Gold
Star Trellis Filigree – Raw Brass
Silver Crescent Moon Dimensional Stickers
BOTTLES
10mm Square Glass Bottle with Lid
12x8 Amber Glass Rectangular Beads
12x8mm Green Glass Rectangular Beads
Mini Clear Resin Whiskey Bottle
Miniature Gin Bottle
Amber Resin Potions Bottle
Tiny Round Bottles
Even Tinier Bottles
PAINTS & INK
Metal Patinas – Antique Window
Metal Patinas – Weathered Copper
Metal Patinas – Treasured Heirloom
Alcohol Inks – Purple Twilight
Alcohol Inks - Indigo
Alcohol Inks – Wild Plum & Red Pepper