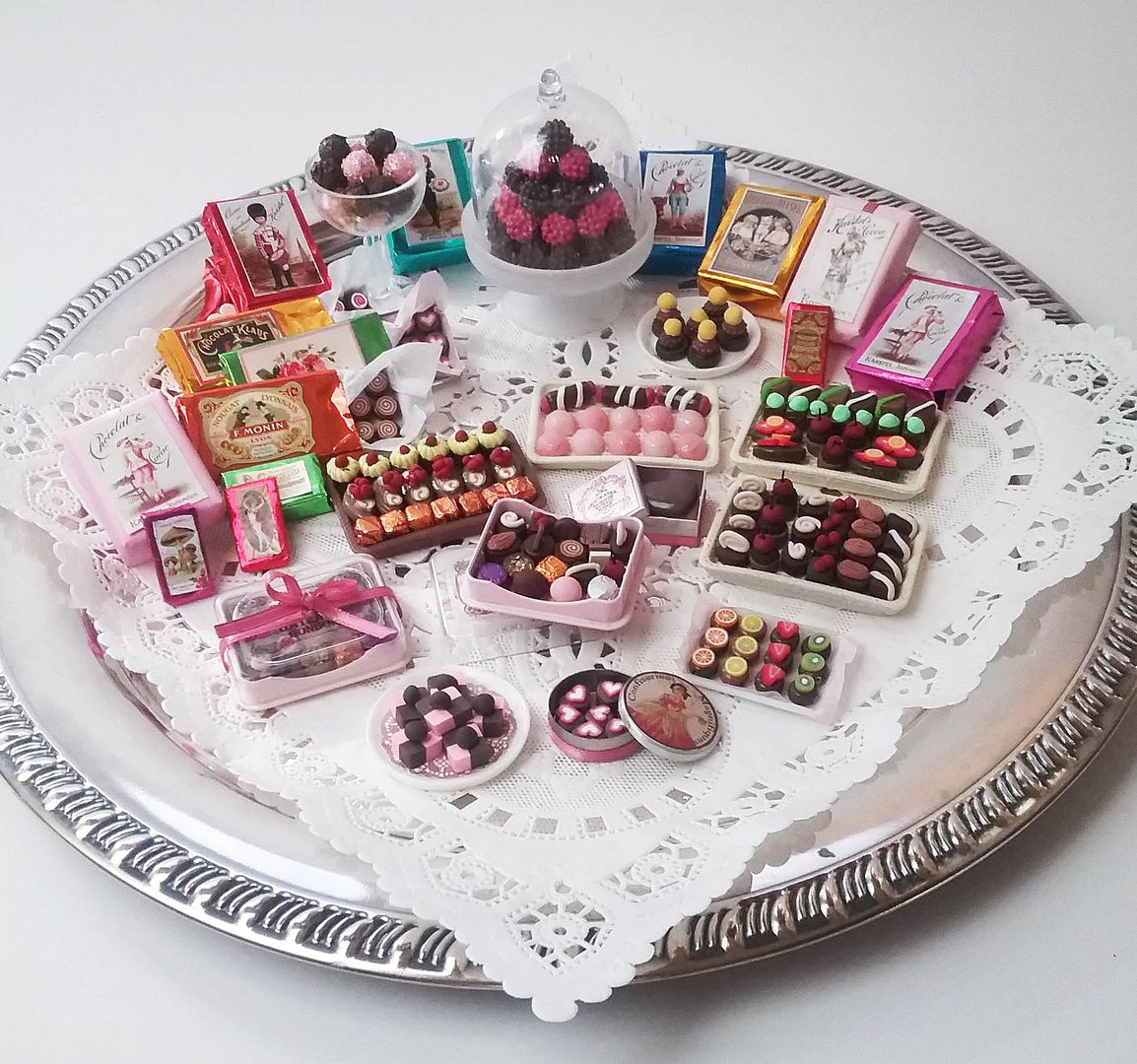 The Streets of Paris project event continues with miniature sweets. I've spent a good deal of time looking at pictures of Paris chocolate and pastry shops to inspire the sweets I've created.
I have for you not one, not two, but three video tutorials covering chocolates, pastry, tarts, cakes and more. Each video is jam-packed with examples, demonstrations, tools, tips & tricks.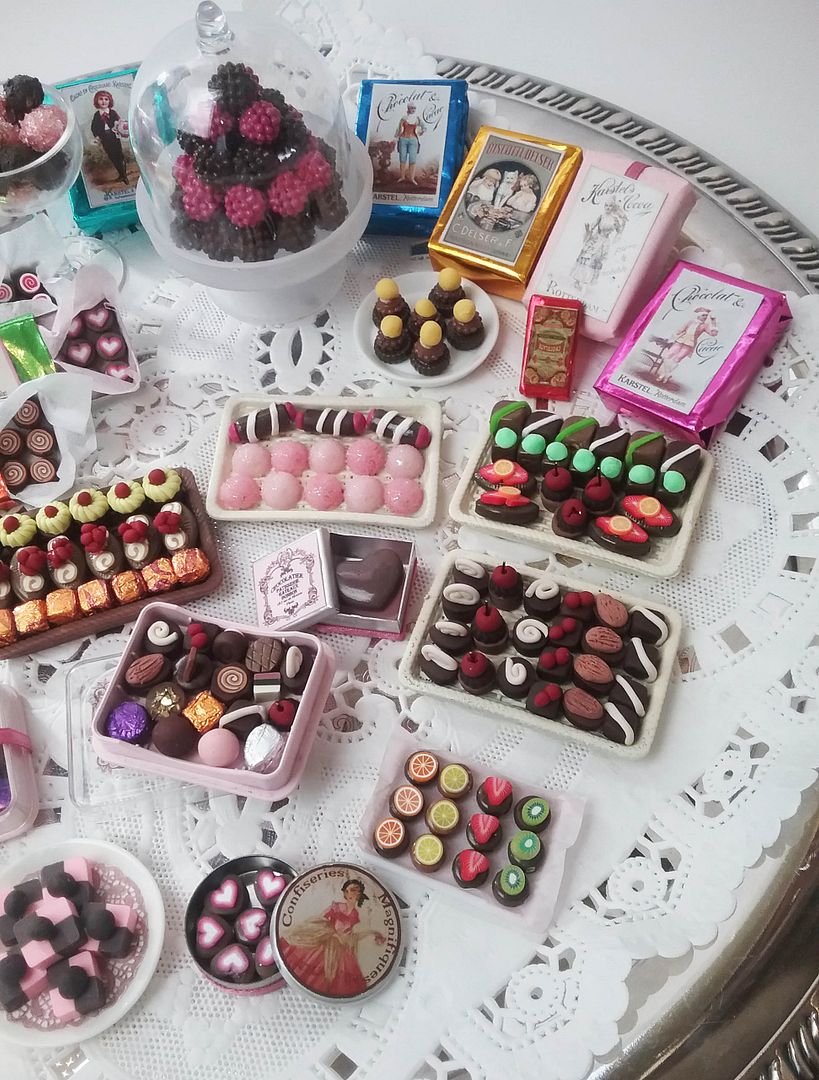 In the Chocolates tutorial, I'll demonstrate how to make chocolates from beads and polymer clay plus cover lovely ways to display the chocolates. What's more, I'll use easy to cut clay canes to jazz up the chocolates.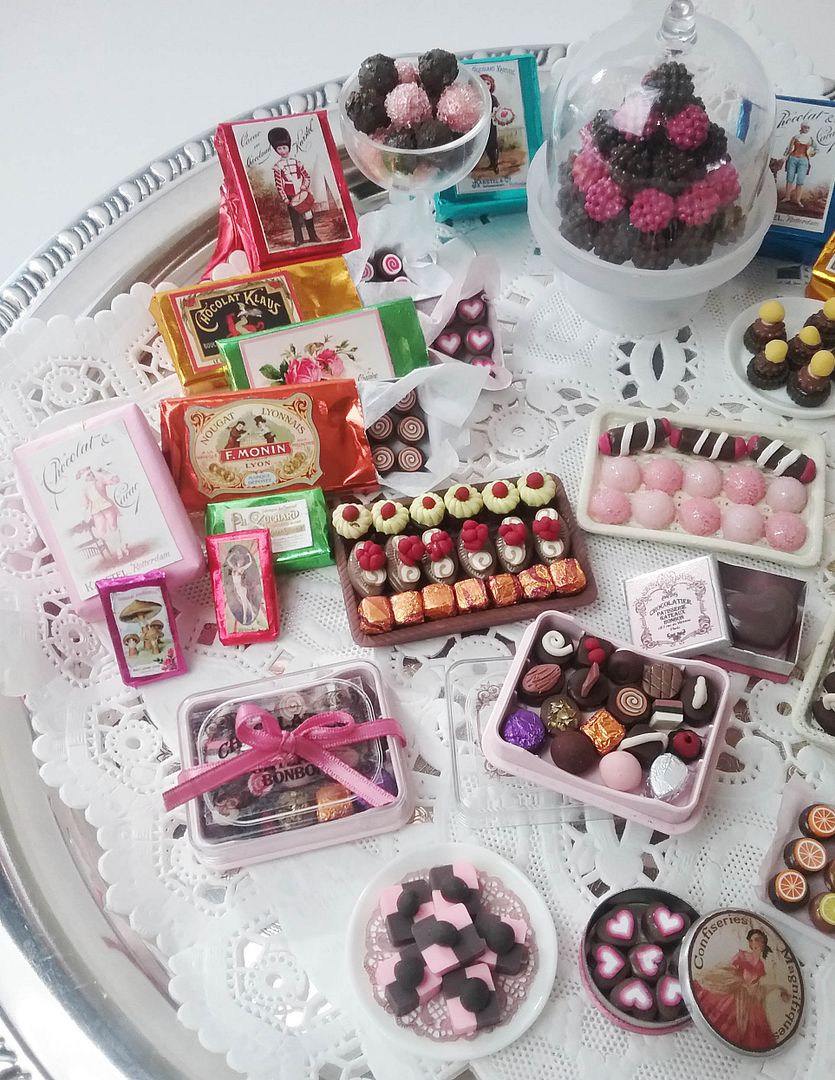 I'll introduce you to helpful tools such as an extruder and pushrod clay cutters. I'll even show you to make a pushrod cutter out of a straw and a wooden dowel.
In the Pastry & Tarts video, I'll show you how to make all kinds of sweet treats out of polymer clay. To make the process easier, I'll use silicone molds and metal clay cutters.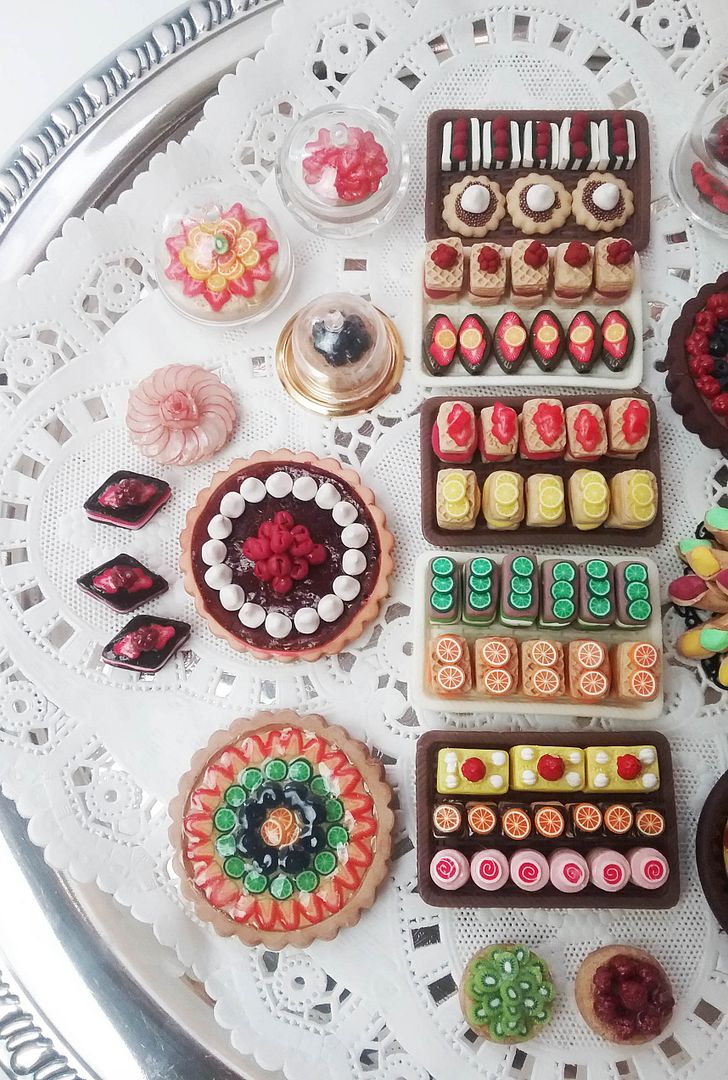 I'll show you an easy way to add glaze to your creations.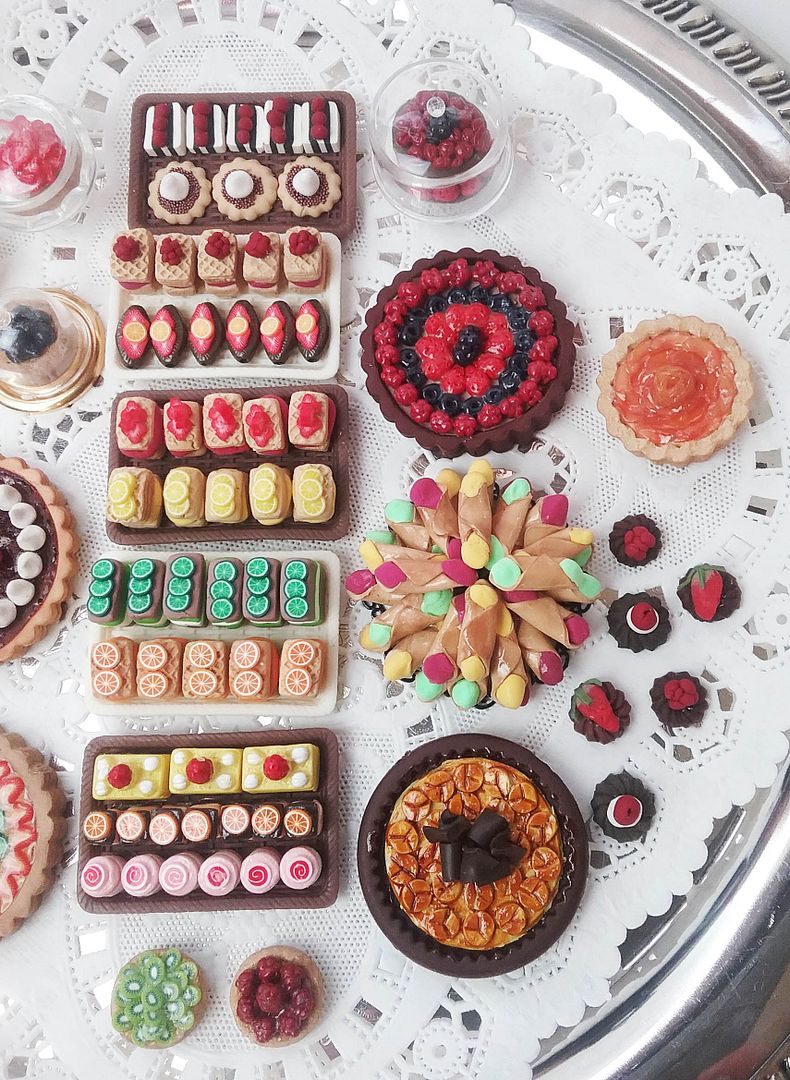 I'll demonstrate an easy way to make clay roses & fruit plus techniques for making clay look like baked dough.
In the Cake video, I'll cover all kinds of cakes, from simple to elegant. I'll show you how to make molds of frequently used components which is such a time saver.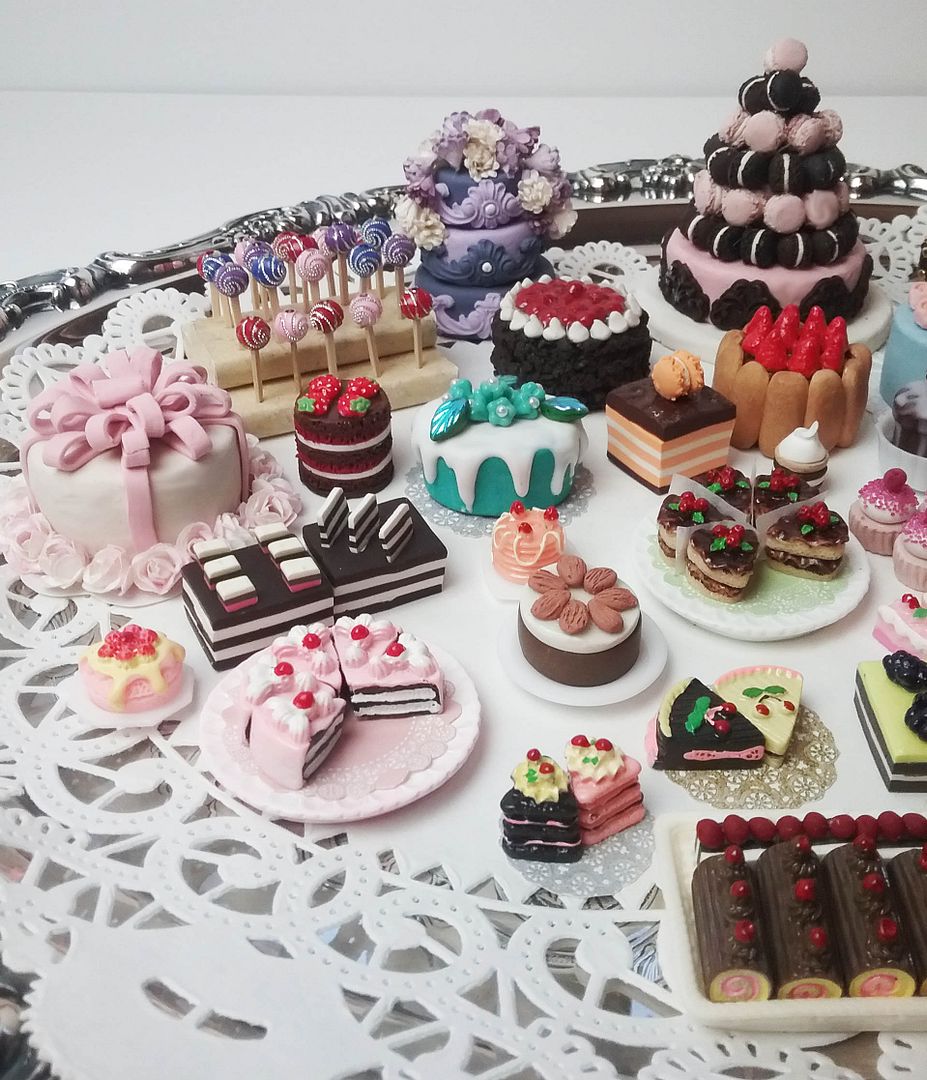 I'll showcase pre-made resin treats that you can intermix with polymer clay treats.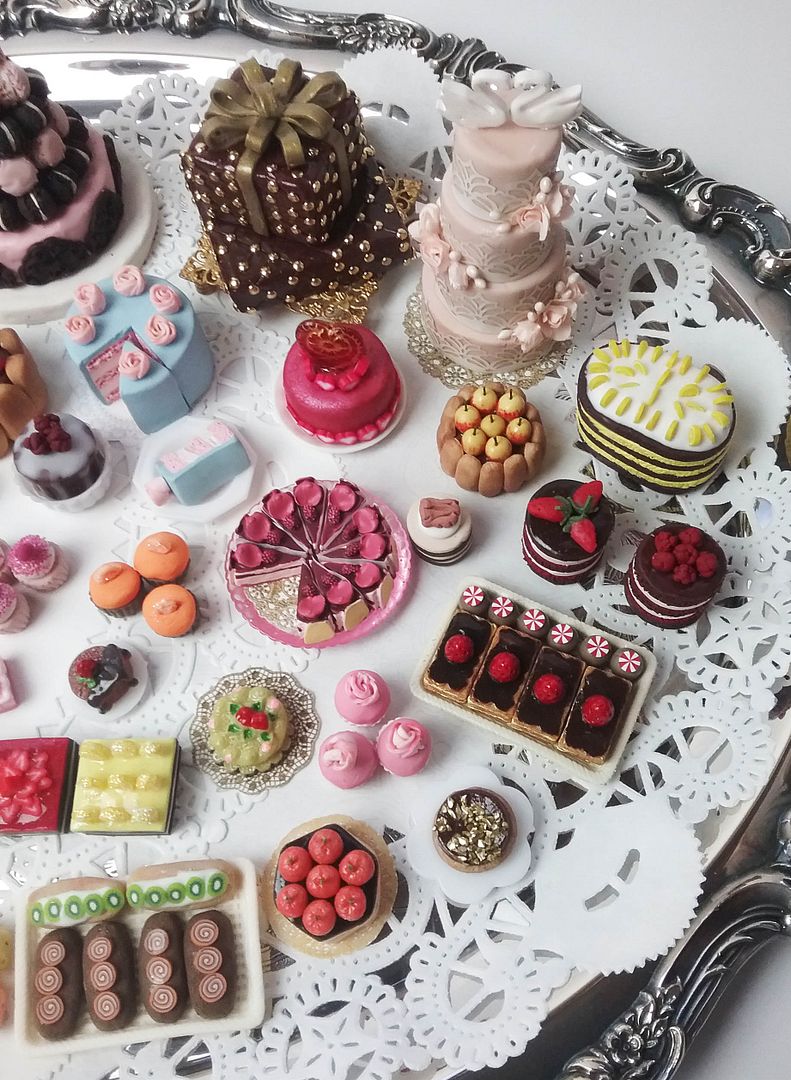 I'll cover techniques such as making bows, cross-cutting cake designs, creating the texture of a realistic cake, and making nuts.
In short, there
are
almost 2 hours of video cram packed with all kinds of demonstrations and idea.
Along with this event segment I've designed a NEW Miniature Chocolates collage sheet and corresponding digital image set.
I also have a FREE Miniature Doilies collage sheet that you can use for your projects. And the giveaways continue with a set of my handmade miniature polymer clay sweets (details below).
In a couple of weeks, I'll be posting the next series of videos which will cover perfume, cosmetics, purses, and shoes.
NEW COLLAGE SHEET & DIGITAL IMAGE SET
MINI CHOCOLATE LABELS
This collage sheet contains 57 unique vintage chocolate related labels of various sizes. There are at least two of each image and some with three.
This image set contains a file of 57 unique vintage chocolate related labels. Included are all of the labels found on the Mini Chocolates Labels Collage Sheet.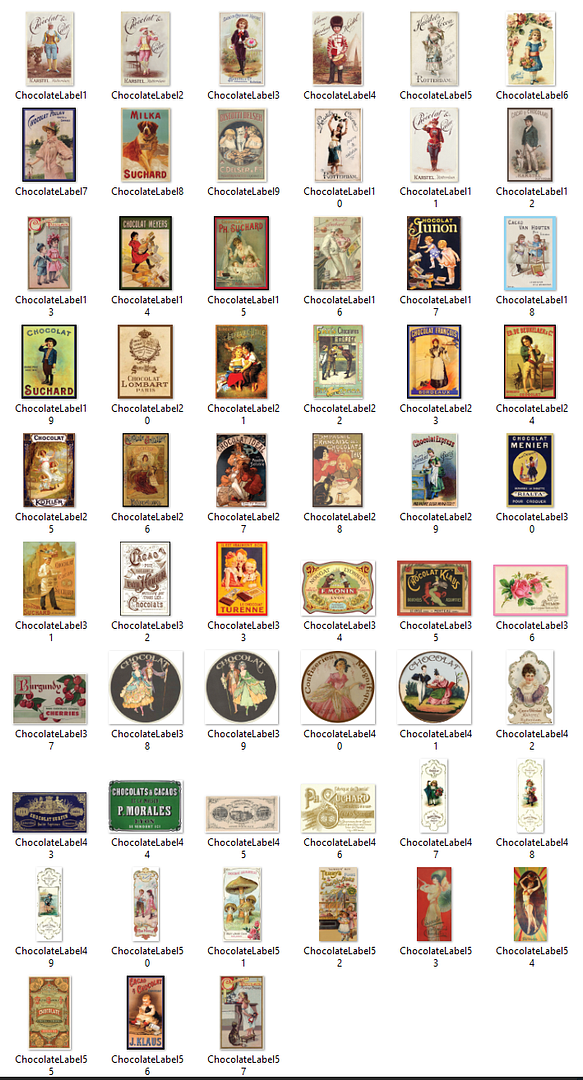 Be sure to watch the video's in order as once I cover a technique, if I use it again it will not be demonstrated in detail.
MINIATURE CHOCOLATES VIDEO TUTORIAL
MINIATURE PASTRY & TARTS VIDEO TUTORIAL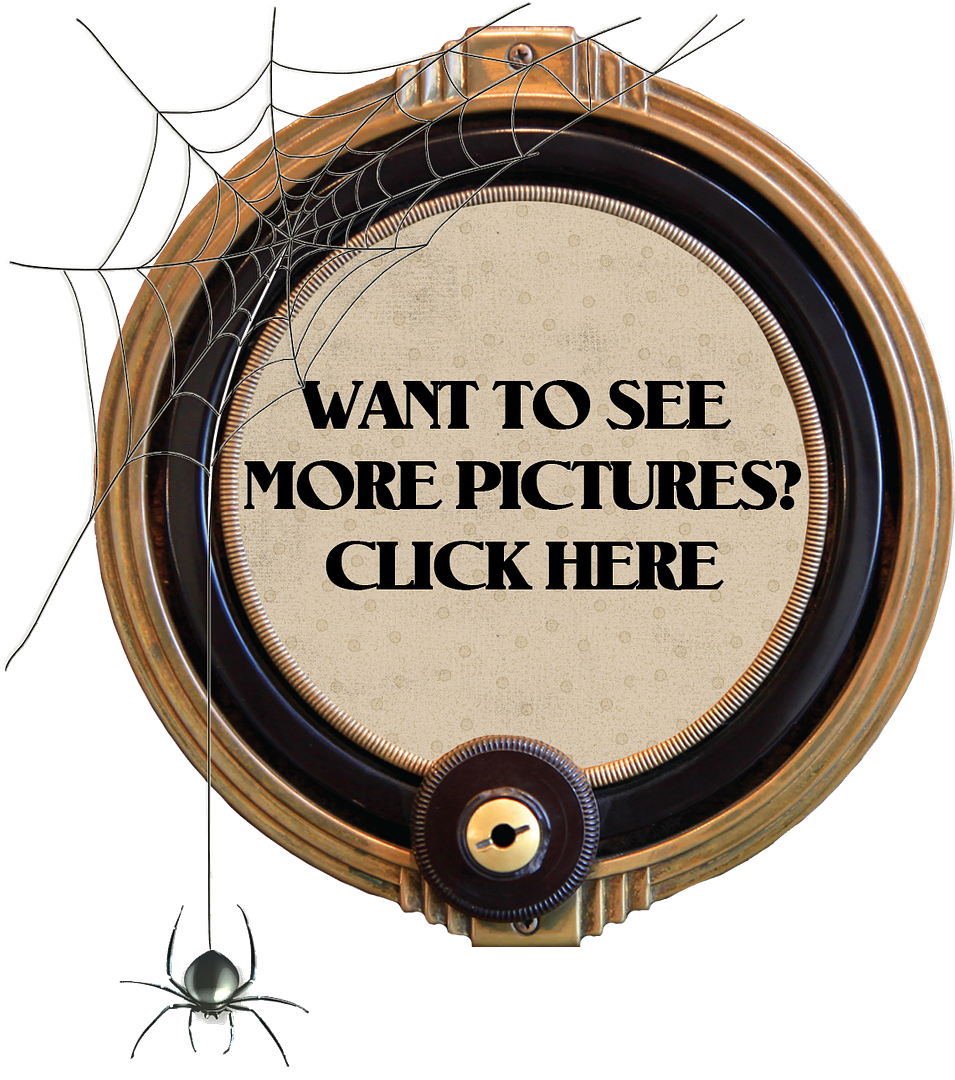 FREE MINIATURE DOILIES COLLAGE SHEET
Feel free to download this collage sheet and use it in your projects.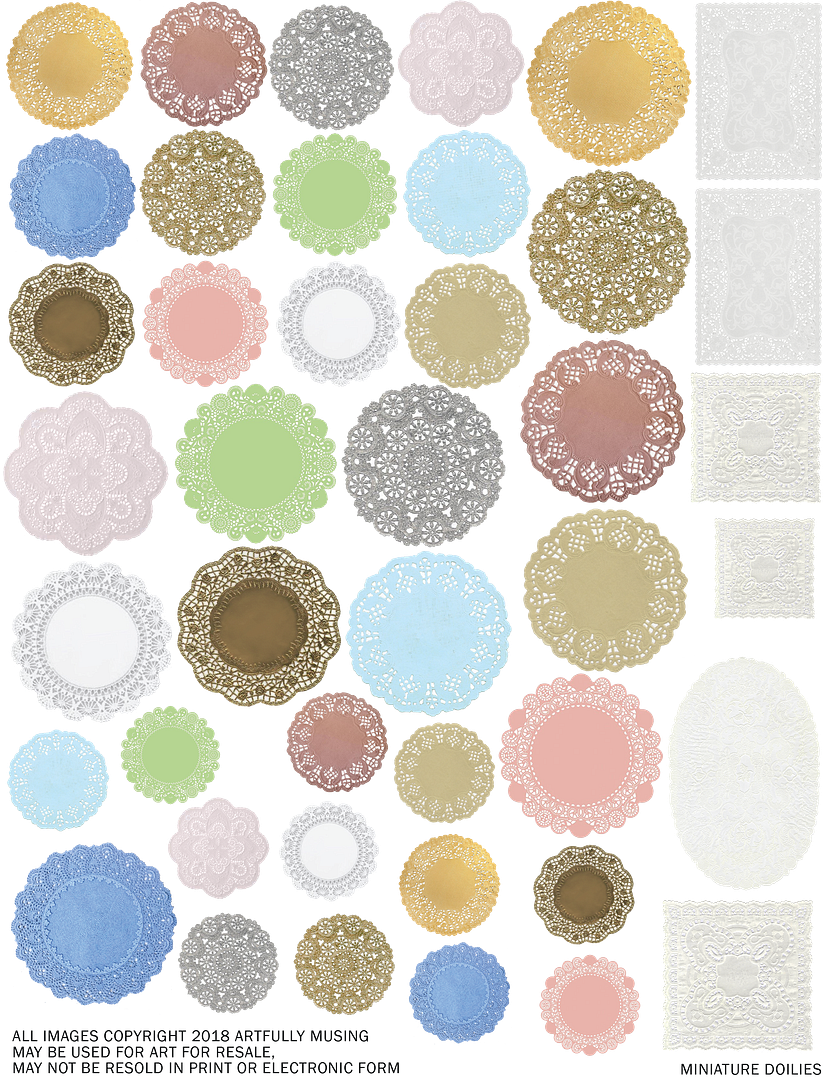 IMAGES
5x5mm Rounded Wooden Cube Beads
5x11 Printed Wooden Tube Beads
8mm Round Swirl Beads - Mixed Colors
Large Red/Gold Glass Heart Bead
10mm Gold Raspberry Beads
Mini Silicone Mold – Sugar Wafer Cookie
Silicone Mold – Architectural Flourishes
Silicone Mold – Ornaments & Settings
Mini Silicone Mold – Many Sizes Bundt Cakes
Mini Silicone Mold- Biscuits & Bread
Silicone Mold – Ramekin Baking Dish
Heart-Shaped Mini Cake with Chocolate Frosting
½ Inch Pale Peach Paper Roses
8 Piece Set Miniature Desserts
Chocolate Rolled Cake with Cherries
Mini Sponge Cake with Chocolate Frosting
Round Pink Cake with Heart Frosting
Slice of Pink Frosted Cake
Tiny Resin Strawberries Cabochons
ITEMS FOR DISPLAYING SWEETS
Metallic Foiled Origami Paper Set
Miniature Round Cookie Tins
Miniature Square Cookie Tins
Cake Stand with Round Dome
Cake Stand with Cylindrical Dome
Scallop Edge Mini Cake Plate w Dome
Clear Cake Dome on Gold Tray
Black Faux Wrought Iron Round Filigree
Raw Brass Box Feet - Rounded
Polymer Clay Strawberry Cane
Polymer Clay Red Swirl Peppermint Cane
Polymer Clay Large Black & White Square Cane
Polymer Clay Cane - Pink Hearts
Polymer Clay Cane - Red Hearts
Polymer Clay Cane - Red & White Rolled Cake
Polymer Clay Cane - Rolled Cake with Cherry
Polymer Clay Cane - Neapolitan Stripes Square Cane
Polymer Clay Large Pink & Brown Square Cane
½ Inch Pale Peach Paper Roses
Tiny Paper Roses – Pink Cream Variegated
Large Red/Gold Glass Heart Bead
Small Glass Trumpet Flowers – Turquoise
1mm Micro Beads – White Pearl
3mm Brass Flat-Back Studs