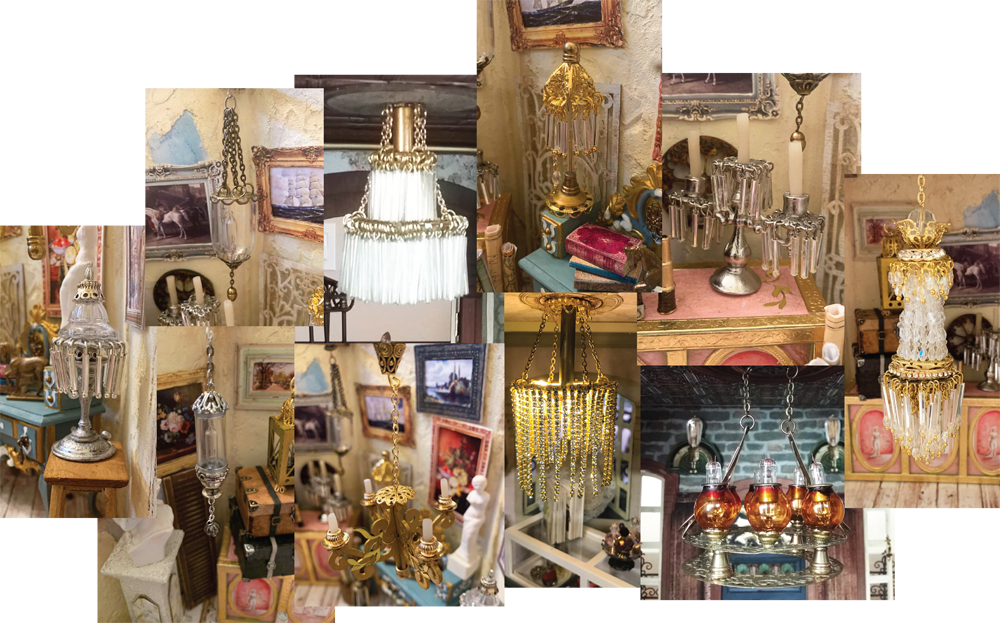 I'm in the process of building an antique shop that, among other things, features lighting. Along with the lighting for the shop, I've included some lights from older projects. I thought it might be helpful to focus on just the lighting in the first video tutorial. Over the next few weeks, I'll be covering other aspects of the antique shop.
The way I approach designing the lights is to break down the shapes that make up a light and then figure out what I can use that is that shape which leads me to some unusual materials. For example, I needed something that looked like a domed glass shade; how about a couple of plastic bowls flipped over and glued together, or a bird bath becomes a lamp base.
I used die-cut paper and chipboard to make some projects easier; others were more elaborate and constructed from various materials. A few of the items I used are from my stash, but most are being carried by AlphaStamps
Below you will find a video tutorial, pictures of each light with a detailed supply list, and then a link to a master supply list of all of the products AlphaStamps is carrying to make these lights.
CANDELABRA DETAILED SUPPLY LIST
Large Silver Candelabra
15mm Glass Bugle Beads (used 24)
Antique Gold Square Filigree – Painted Silver (used 4)
LANTERN
LANTERN DETAILED SUPPLY LIST
Small Square Lantern
Large Gold Filigree Bead Cap
Raw Brass Box Feet - Cones
9mm Antiqued Swirl Bead Cap
TABLE LAMPS
GOLD LAMP DETAIL SUPPLY LIST
Accordion Star Filigree Bead Cap
Raw Brass Box Feet - Cones
Raw Brass Box Feet - Round
¾ Inch Gold Star Base
3x5mm Teardrop Crystal Beads (Used 1)
15mm Glass Bugle Beads (Used 18)
White Dishes & Silverware Place Setting (used plate upside down for base)
PENDANT LIGHTS
CHANDELIERS
Click here to jump to the complete supply list of all of the lights at AlphaStamps.
GRAND CHANDELIER DANGLE PLACEMENT CHART