I'm not the only one hosting a Halloween event. I've run across two that I plan on participating in that might interest you.
The first is "Le Mysterieux Carnival". Now doesn't that sound mysterious? It's being hosted by Frosted Petunias and Incipient Wings. The event is a mixture of carnivals and Halloween. Sounds like a perfect mix to me and I have already started working on my pieces for the event.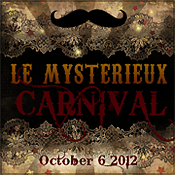 The second event is "The Bewitching Home Blog Party" hosted by The Witch of Howling Creek. The date is October 13. Participant's posts will be domestically related in a Halloween Samantha Stevens sort of way; anything from food to decorating to entertaining.