Halloween Haunted Village - PART 1
Plan to spend your day shopping at The Thrifty Witch. Then it is off to the Grizelda's for a new quaff and on to the Retching Toad Eatery for dinner. Ring in at midnight at the Happy Bat Tavern. In the morning (if you survive), stop at Ghoul & Sons Chemist for whatever ails you on your way out of town.
Halloween Haunted Village - PART 2
The first stop is the Black Cat Emporium, where you'll find unique, strange, and sometimes ghoulish items. If you want to stay the night, you can always get a room at the Buzzard Bed & Breakfast, and should something unfortunate and occur, Cadaver & Digger Undertakers will take care of everything.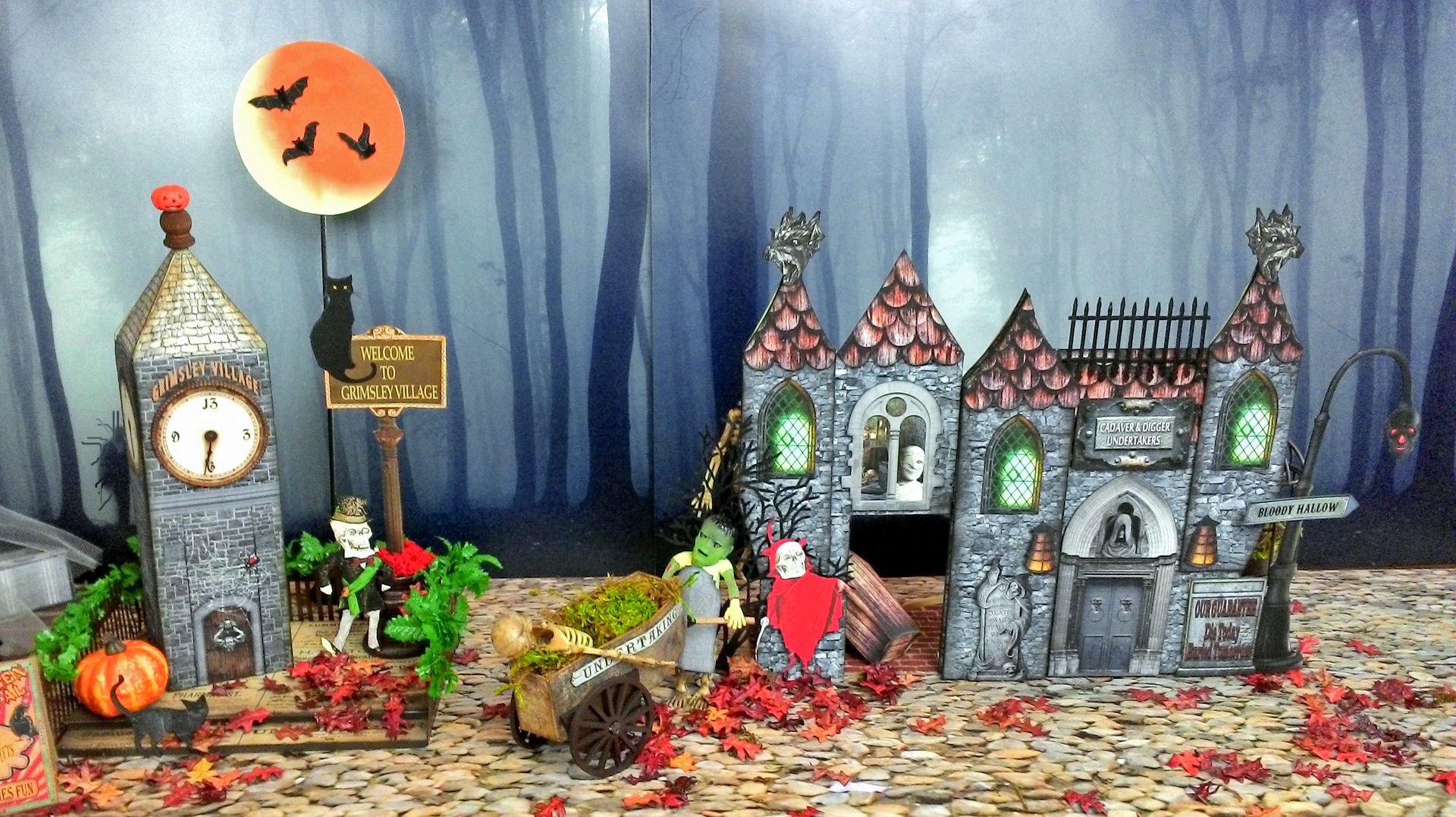 Halloween Haunted Village
GHOSTMORE MANOR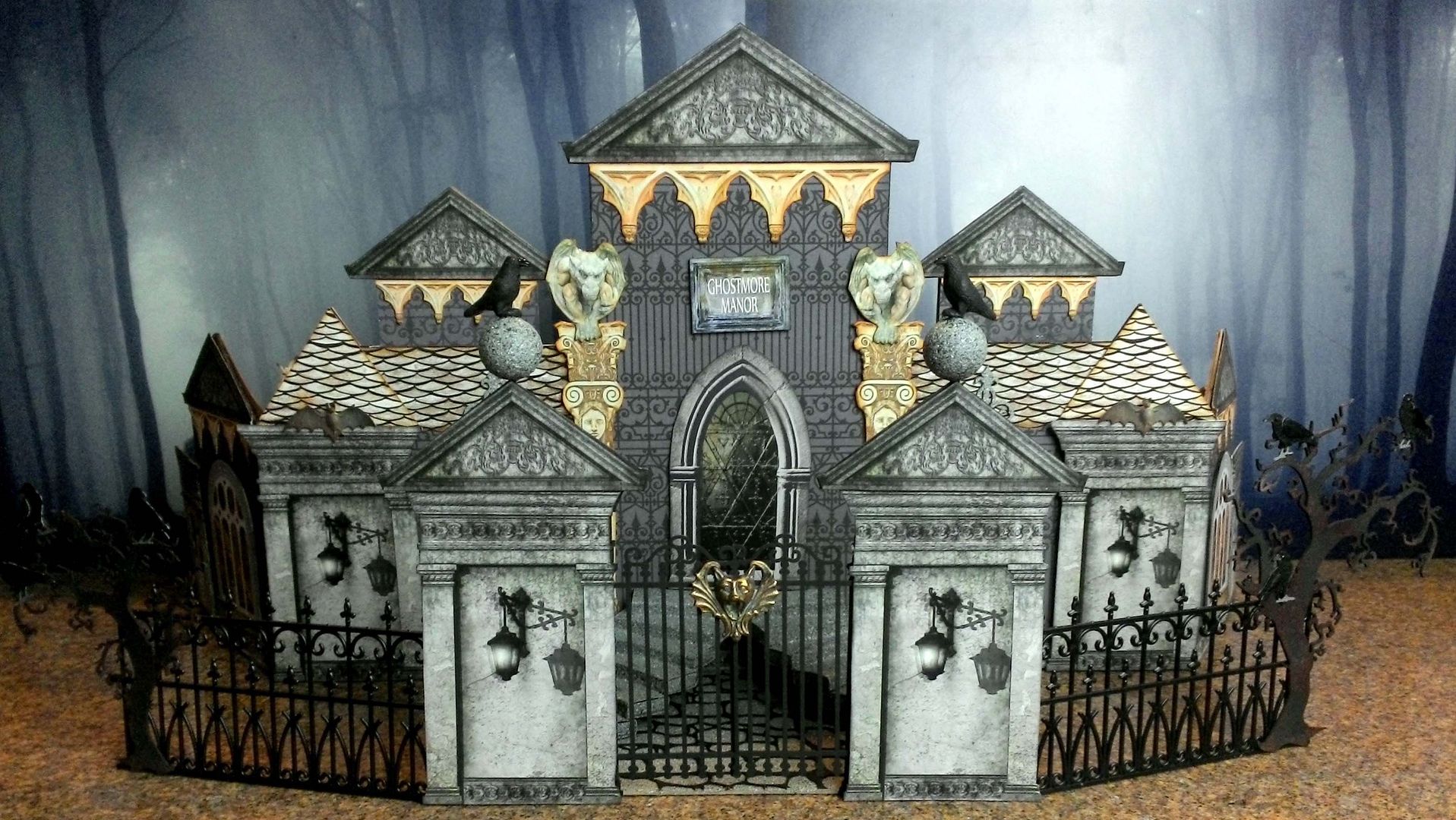 Every village has its haunted mansion, a place that is whispered about, and strangers are warned not to go near. For Grimsley Village, it's Ghostmore Manor. Some say it's cursed; others say it's full of dark magic. Even the dastardly Cadaver and Diggers Undertakers avoid Ghostmore.
Halloween Haunted Village - MAD SCIENTIST LABORATORY
It's a dark and stormy night in Grimsley Village, the kind of night Dr. Deranged has been waiting for. Tonight he will be taking advantage of the lighting storm to further his on animating a giant brain.
With help from his mechanical minions, Dr. Derange hopes to see the culmination of his diabolical plans.
Inside, all preparations have been made. The brain is resting on the platform, being fed by tubes of fluid. The electrodes are in place leading up to the lightning collector installed on the roof.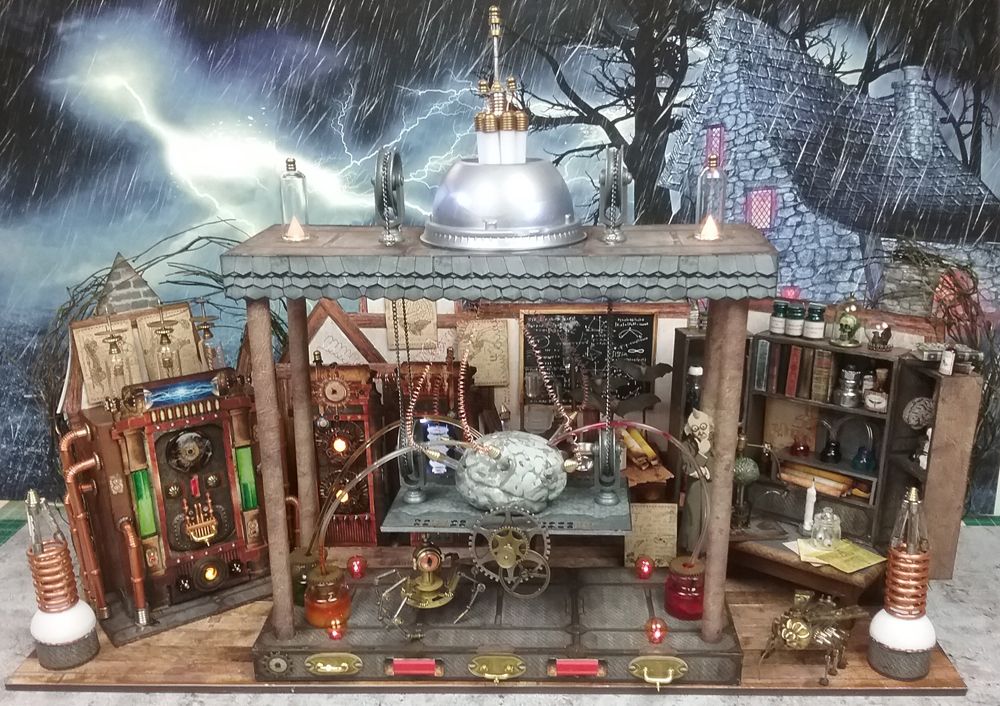 In a fevered frenzy, Dr. Deranged works to finish the construction of his electrical plasma machines, which he hopes will harness enough energy to animate the brain. His work is cutting edge and dangerous. If things don't work out, Cadaver and Digger will undoubtedly be the first on the scene.
You can see his formulas on the chalkboard, books, charts, and laboratory equipment. It's taken years of work culminating in this one night.
The lab appears calm and serene outside, surrounded by seasonal pumpkins and vines, but inside it's a different story.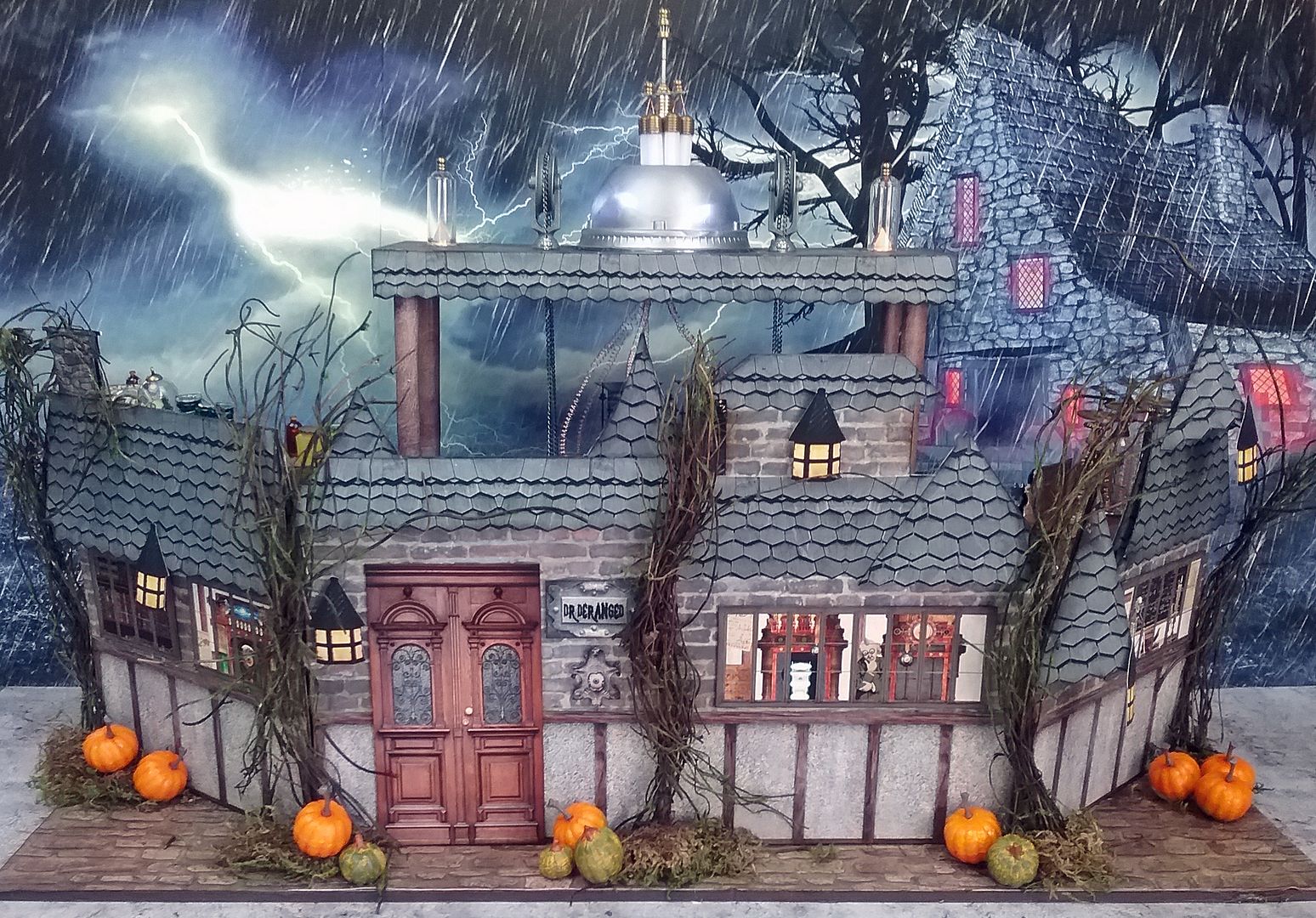 The storm is getting closer, which means it's time to fire up the machines.
Everyone in Grimsley Village senses something is about to happen. After tonight, the world might not ever be the same……BWAHAHAHAHA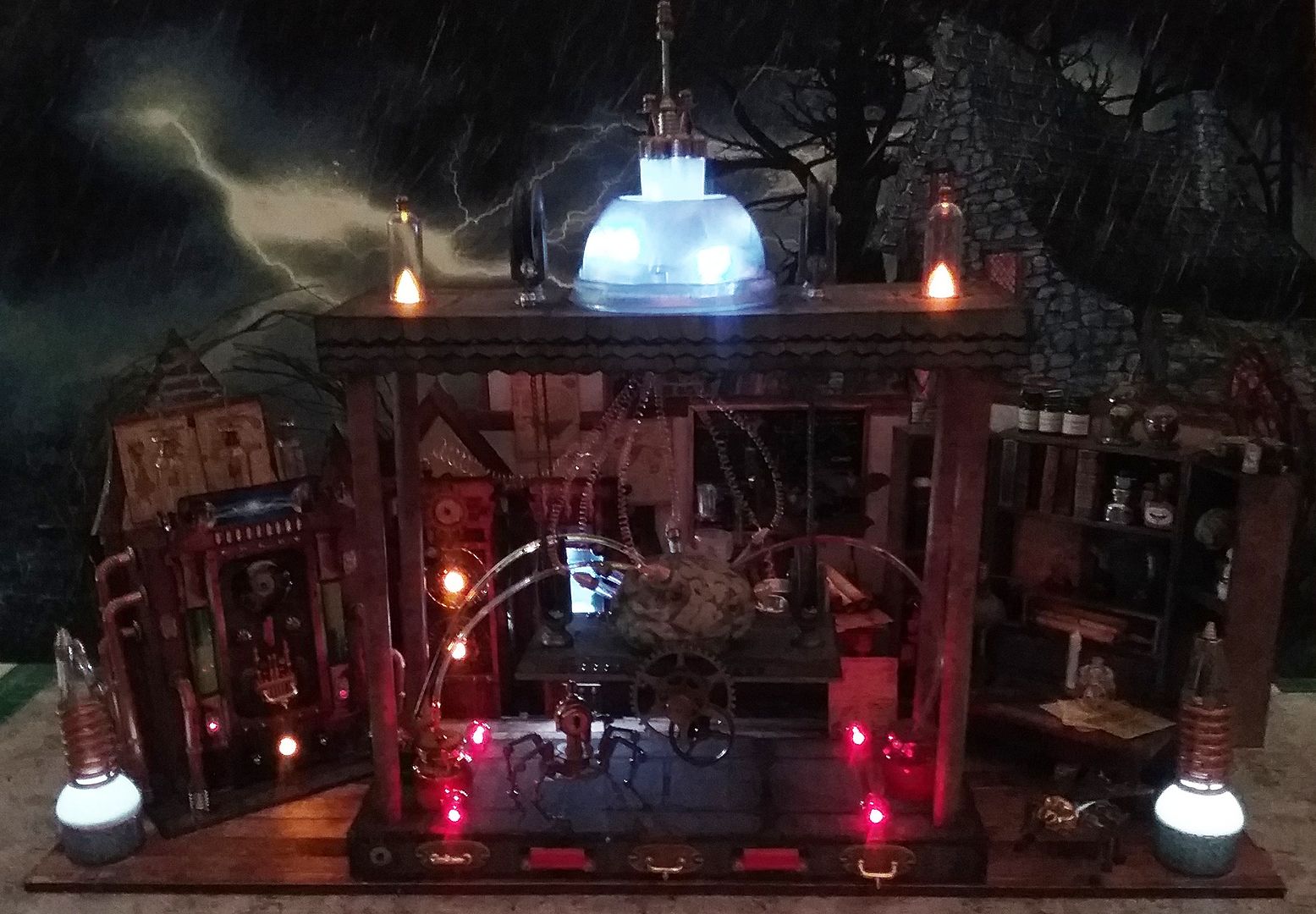 CLICK HERE TO JUMP TO THE MAD SCIENTIST LABORATORY TUTORIAL
Halloween Haunted Village - FORSAKEN CEMETERY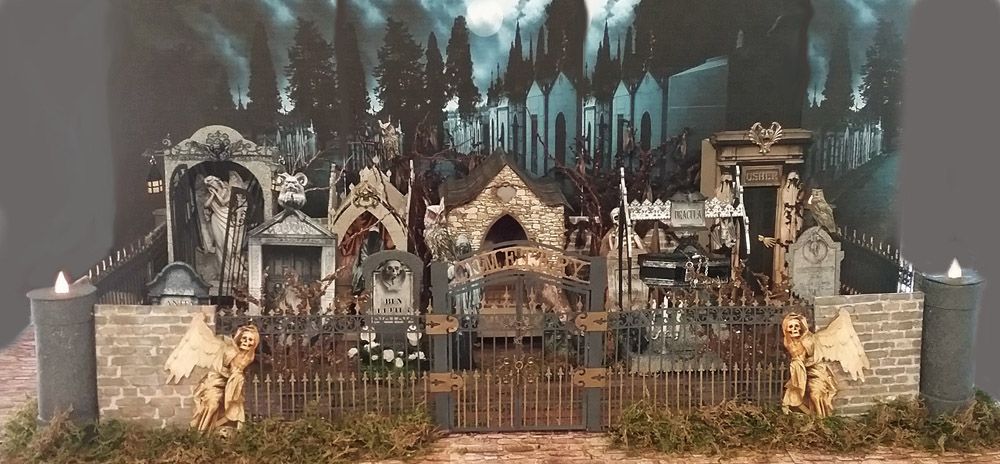 The cemetery gates have been locked for years, no one goes in, and no one comes out.
Buried behind the gates are some infamous characters like Dracula and the members of the Usher family.
Thankfully, Dracula's coffin is chained and locked.
Ghosts float in and out of the tombs,
crypts,
and mausoleums.
It's rumored that a werewolf stalks the ground. The locals lock themselves in their homes on a full moon.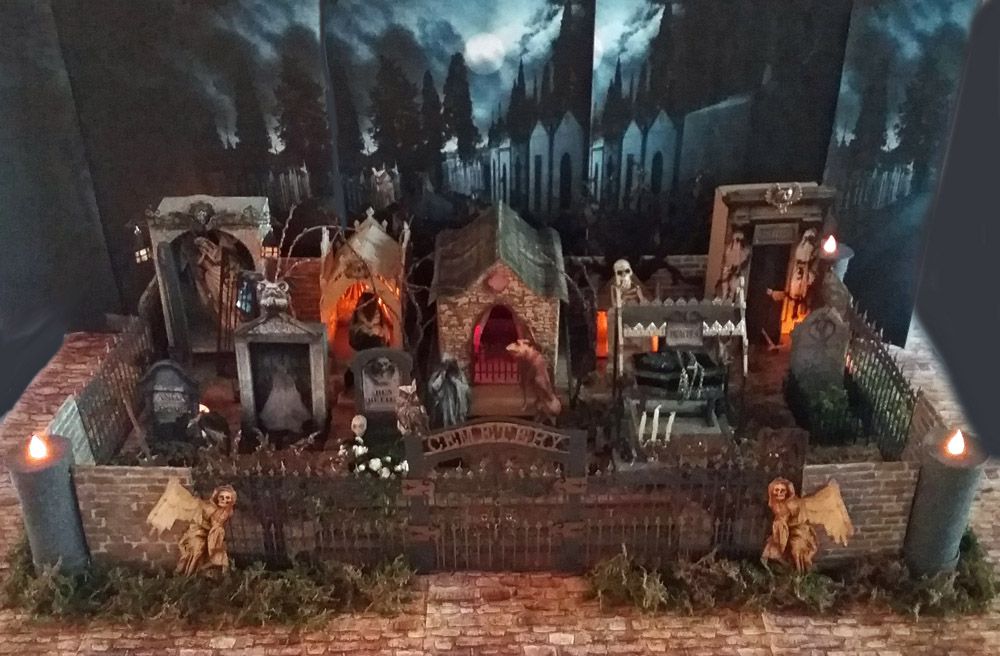 Halloween Haunted Village - MOLDY MORTY'S MARKET
Not your usual market, the customer's taste runs more to Dried Zombie Brains and Beatrix Myopia's Eyeball Soup. The latest specials look interesting, particularly the 2 for 1 Roadkill. The market is well stocked with Blood Coffee, Spicy Vampire Venom, Sour Milk, Scream Cheese, Voodoo Spirits, Anguished Vapors, and Vampire Vodka. Mr. Cleaver is in his usual place butchering something delightfully disgusting. As usual, the Bones brothers are playing checkers and drinking beer. Cadaver and Digger have arrived with their delivery of bones from the graveyard. Terrible Tina's Tasty Treats stand is full of ghoulish goodies.