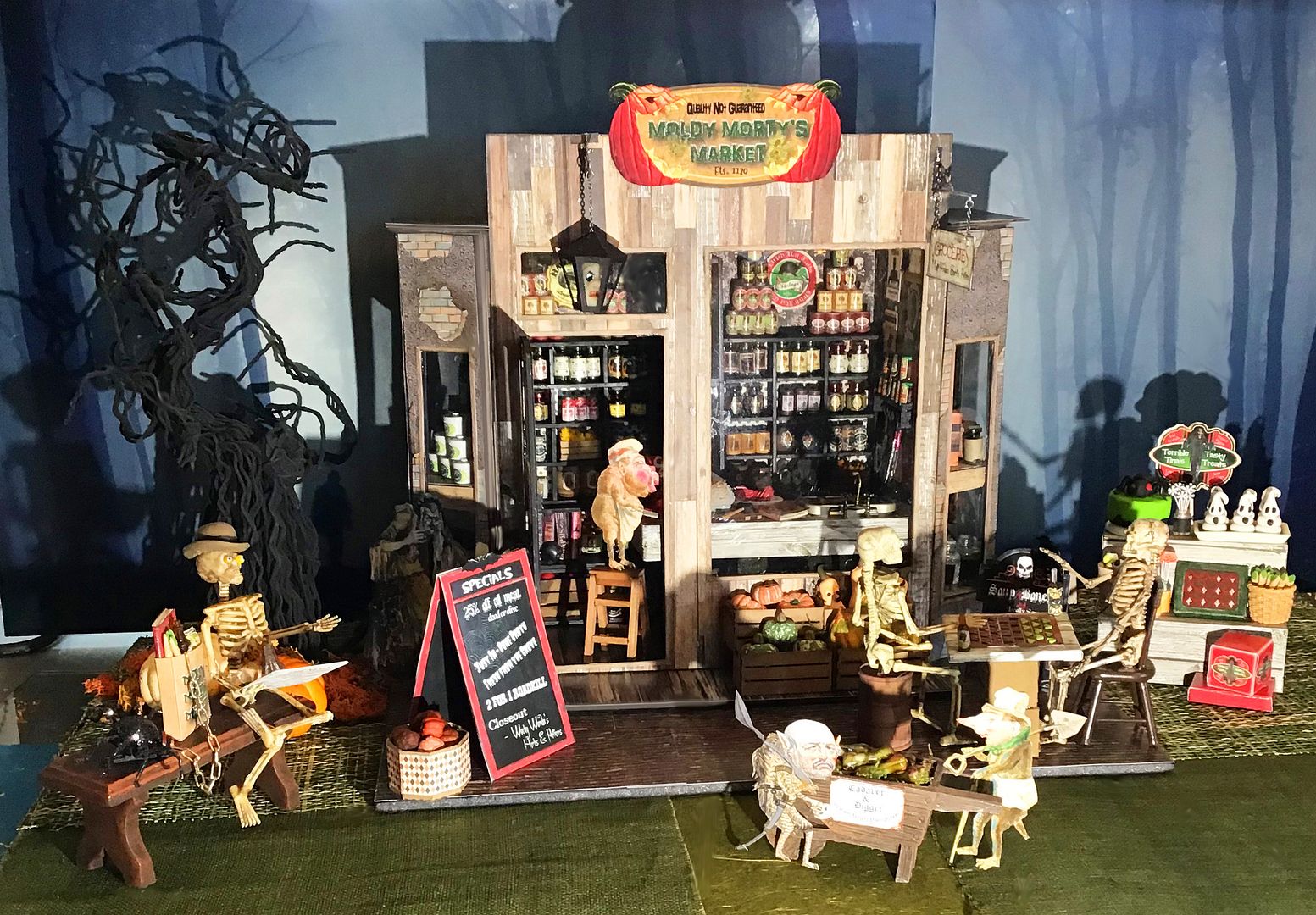 Not your usual market, the customer's taste runs more to Dried Zombie Brains and Beatrix Myopia's Eyeball Soup. The latest specials look interesting, particularly the 2 for 1 Roadkill.
The market is well stocked with Blood Coffee, Spicy Vampire Venom, Sour Milk, Scream Cheese, Voodoo Spirits, Anguished Vapors, and Vampire Vodka.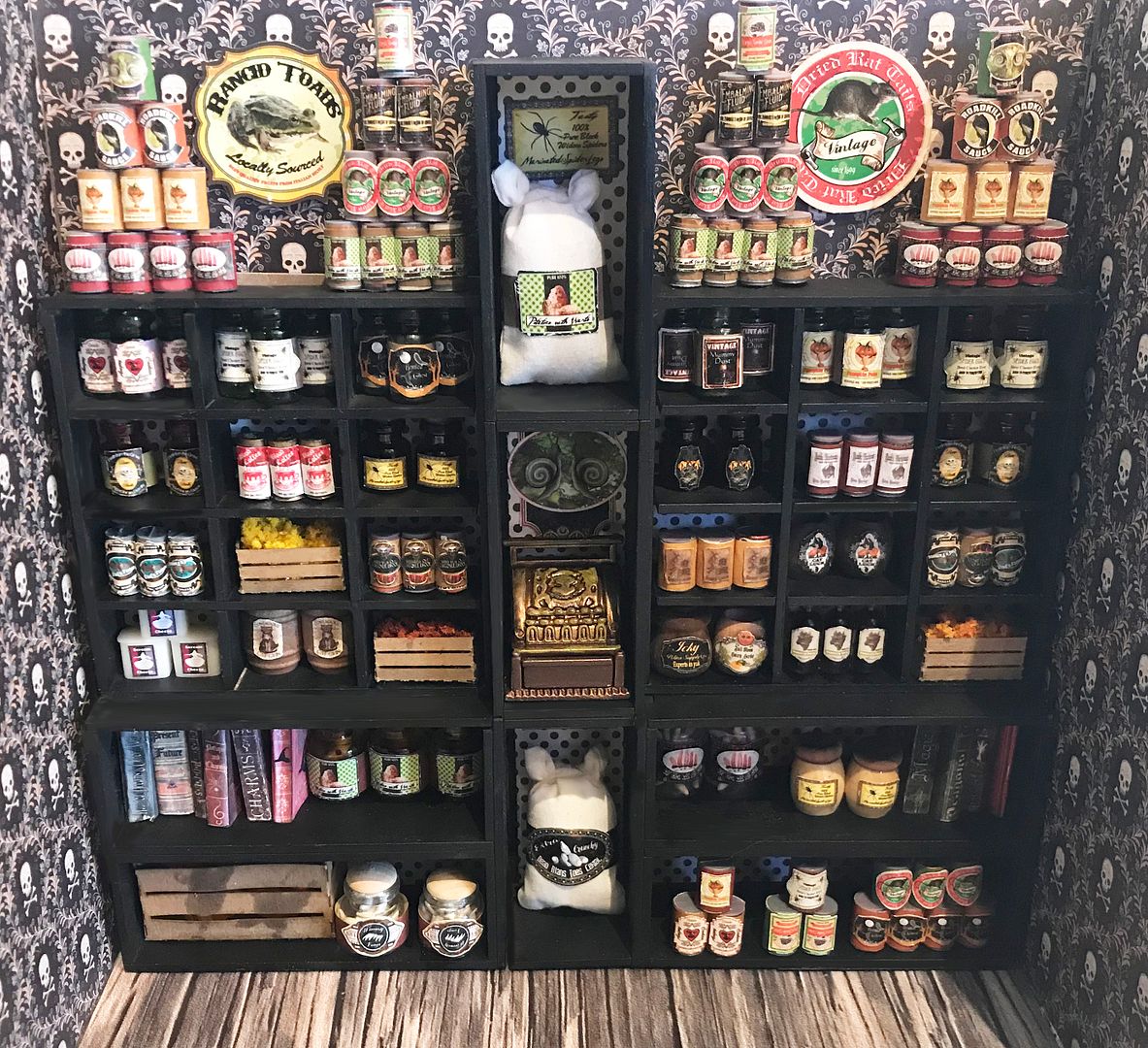 The Potions and Poisons sale starts at midnight so don't be late.
Mr. Cleaver is in his usual place butchering something delightfully disgusting.
Hairy Hagatha has just released her latest cookbook, "The Ghoulish Gourmet." Screaming eggs at 59 cents per dozen is a steal.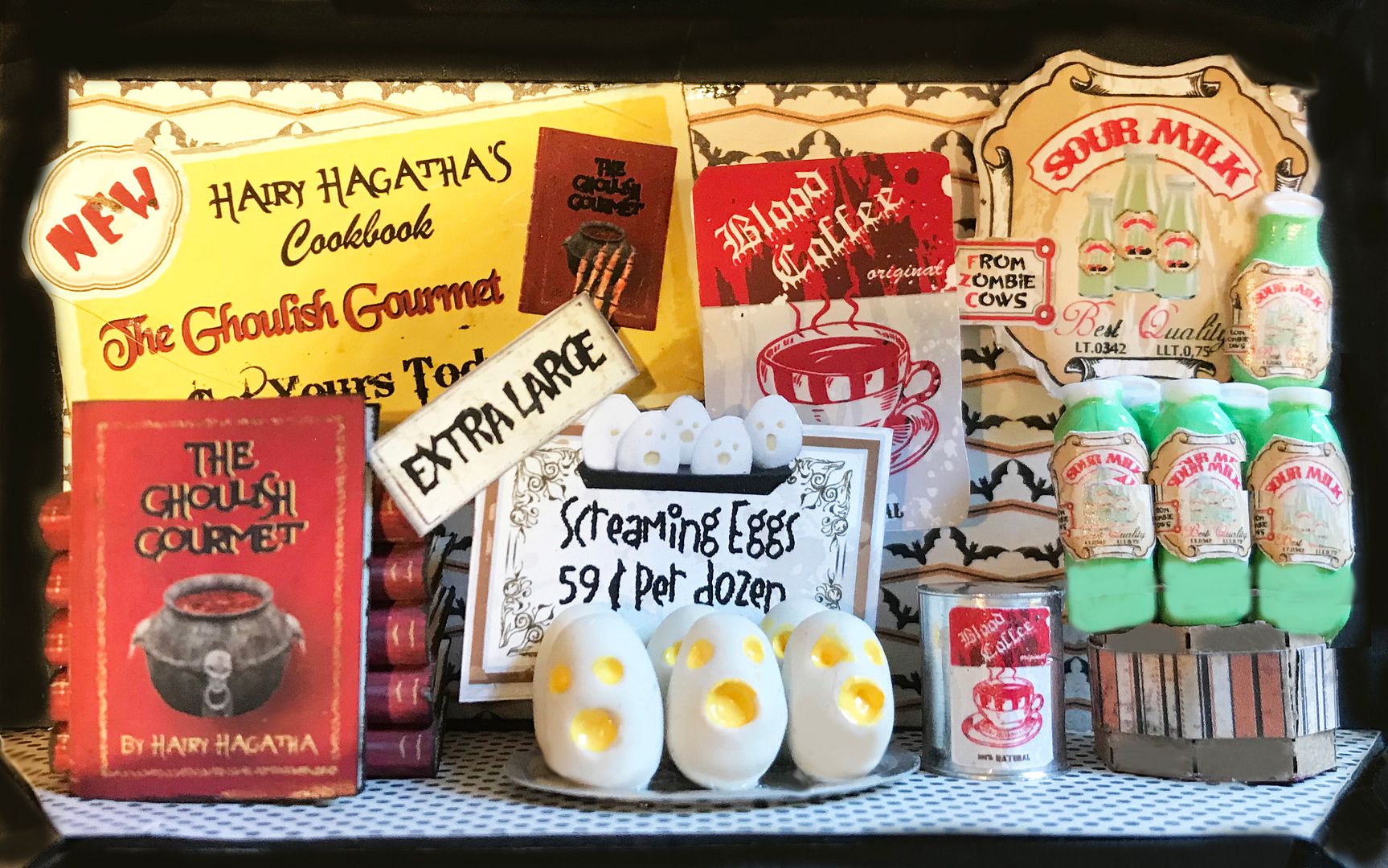 As usual, the Bones brothers are playing checkers and drinking beer.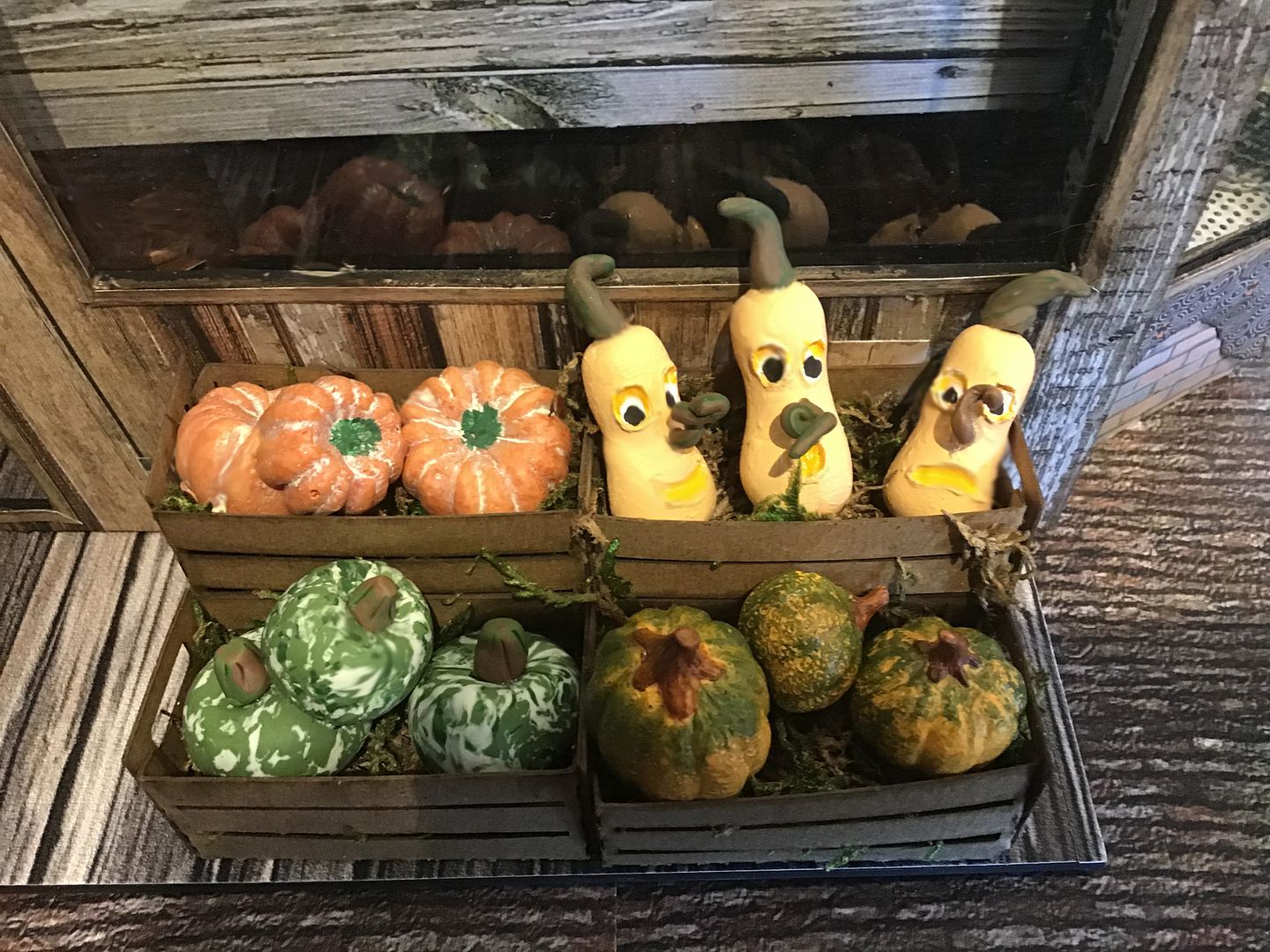 Cadaver and Digger have arrived with their delivery of bones from the graveyard.
Terrible Tina's Tasty Treats stand is full of ghoulish goodies.
Mr. Humerus has finished his shopping and sits on a bench reading the Grimsley Village News with his pet Spider.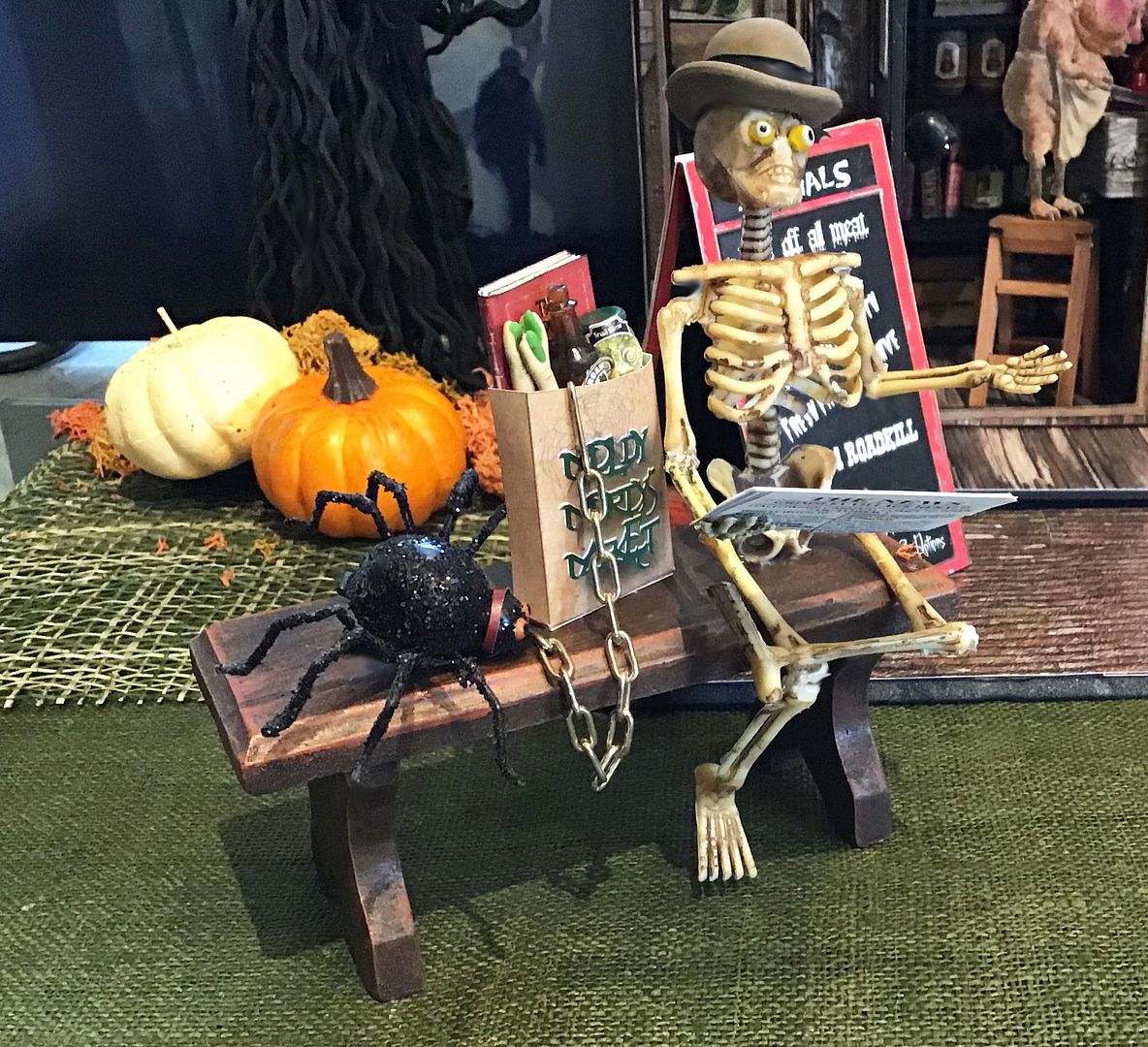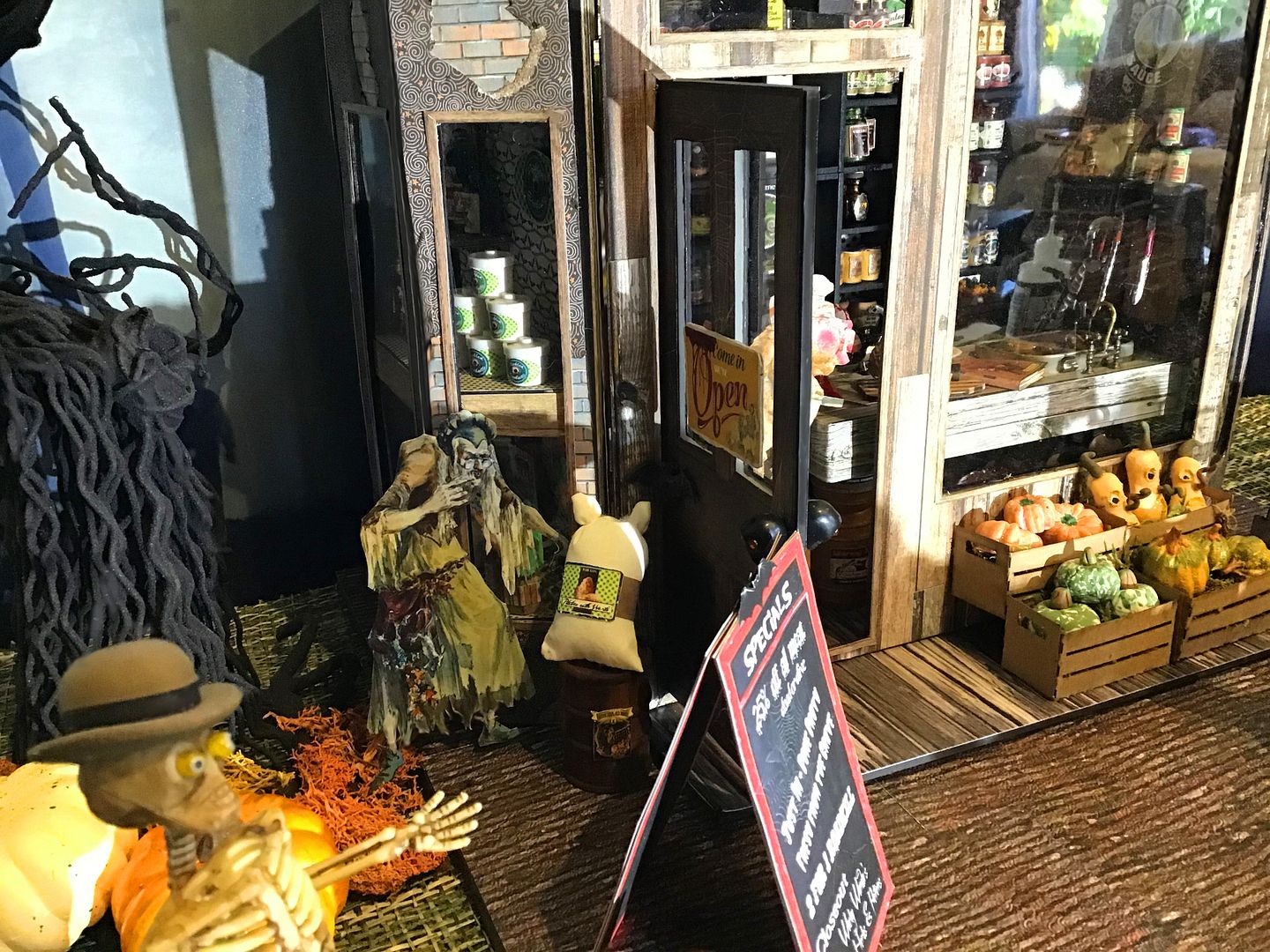 There he is Mr. Morty himself creeping around the corner.
This project is packed with chipboard and paper die-cut kits that make it easy to assemble, starting with the main structure which is a Deep Storefront Box, to 10 inch Bay Windows, Bagatelle Boxes and Storage Hutch (used to construct the inside wall unit), with many more smaller items like the crates, a hanging lantern, and shelving.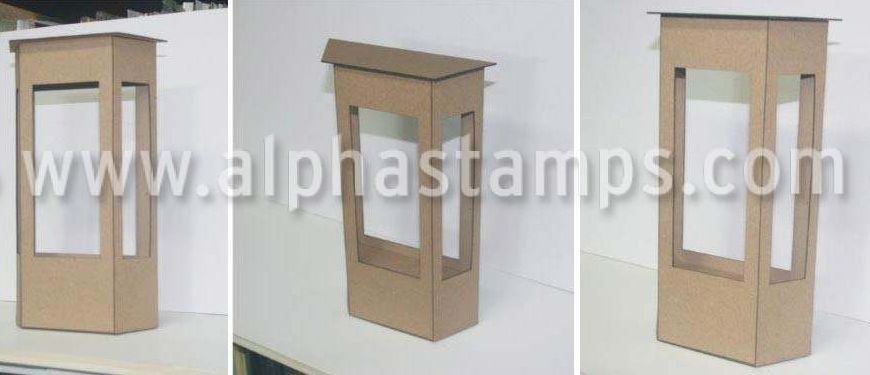 Further in the post, there is a link to a video tutorial where I show you how I put the market together. In addition, I've created 3 new collage sheets and a digital image set. There is a link further down where you can pop over to AlphaStamps to easily see all the products I use as well as a detailed list of products with links.
And last but not least some free images to go with the project.
NEW COLLAGE SHEETS & DIGI IMAGE SET
This collage sheet contains images to create a Halloween Market. On this sheet, you will find Moldy Morty, Mr. Cleaver (the butcher), a sandwich board, three cookbooks, and lots of signage. To purchase this sheet click on the image below.
Mini Halloween Market Labels Collage Sheet
This sheet contains 59 unique food, drink, and potion labels in four different sizes ranging from 3/8" high to ¾" high that should fit a variety of miniature containers. These work well with 1:12 scale miniature projects. To purchase this sheet, click on the image below.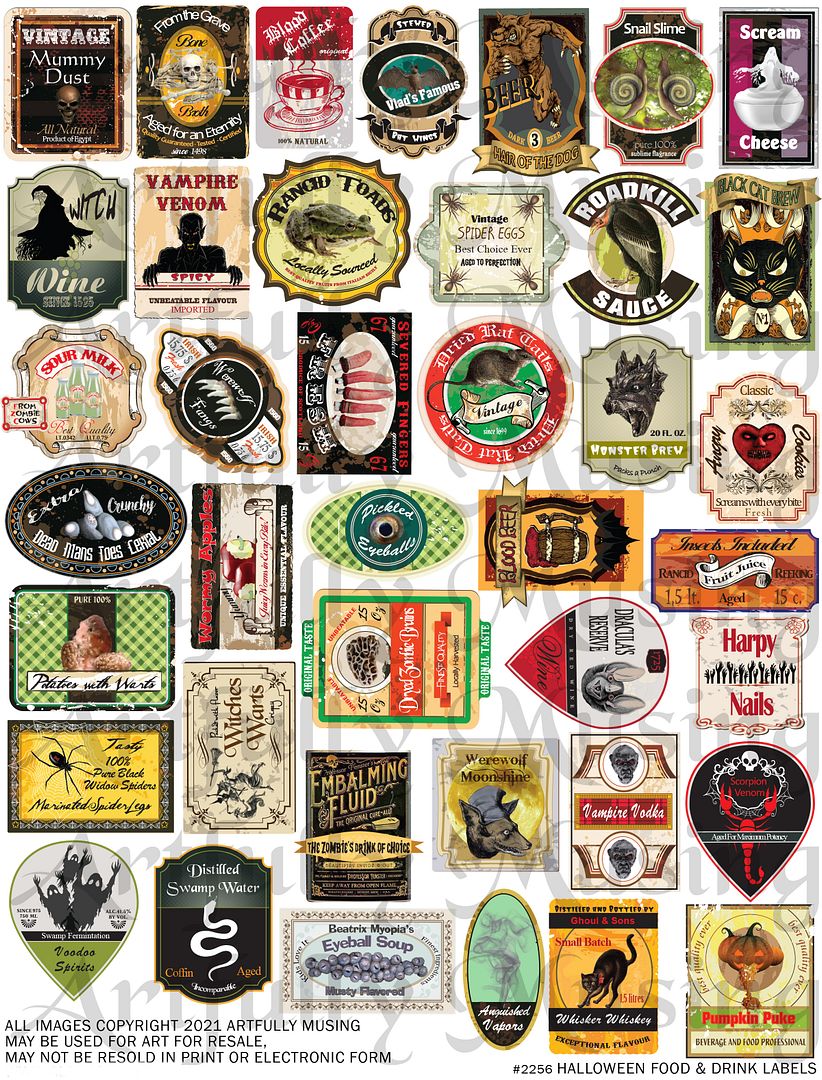 Mini Halloween Market Labels Collage Sheet
This collage sheet contains 40 unique food and drinks labels that can be used to label containers or as posters for miniature projects.
Labels include: Vintage Mummy Dust, Bone Broth – Fresh from the grave, Blood Coffee, Vlad's Famous Stewed Bat Wings, Spicy Vampire Venom, Rancid Toads, Spider Eggs, Road Kill Sauce, Sour Milk, Werewolf Fangs, Dead Man's Toes Cereal – Extra Crunchy, Scream Cheese, Potatoes with Warts, Dried Rat Tails, Marinated Spider Legs, Beatrix Myopia's Eyeball Soup, Voodoo Spirits, Werewolf Moonshine, Vampire Vodka, Anguished Vapors, Monster Brew, Scorpion Venom, Embalming Fluid, Pumpkin Puke, Rancid Fruit Juice, Wormy Apples, Dried Zombie Brains, Crispy Witches Warts, Severed Fingers, Angry Cookies, Snail Slime, Pickled Eyeballs, Witch Wine, Black Cat Brew, Hair of the Dog Beer, Blood Beer, Dracula's Reserve Wine, Ghoul & Sons Whisker Whiskey, Distilled Swamp Water, Harpy Nails. Top purchase this sheet click on the picture below.
Moldy Morty's Market Digital Image Set
This image set contains 80 images which includes all of the images from the Moldy Morty's Market Collage Sheet, the Mini Halloween Market Labels Collage Sheet, and the Halloween Market Food & Drink Labels Collage Sheet. In addition, there are more signs, characters, and other items that work well with the spooky market. To purchase this image set click on the image below.
Feel free to download and use the images below for your projects (downloads are actual size).