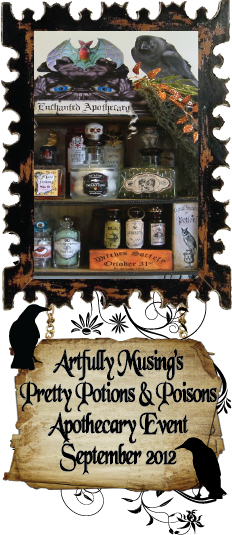 I've had some questions about the details of the event. It's great that so many of you are excited cause I sure am! Here is a quick post to give you some more details and to answer your questions.
My collage sheets designed for the event will be available for purchase on 8/26/12. The sheets contain bottle labels, book covers and other decorative images. My sheets and all of the current Alpha Stamps Halloween themed collage sheets are available for electronic download or as a paper copy.
As a companion to the series of video tutorials, I'll have a PDF document available that you can download and or print. The document will include the supply list, detailed instructions, any measurements etc. so you don't have to worry about writing things down as you watch the tutorials. The first segment of the tutorial will post sometime during the second week in September and cover assembling and decorating the apothecary cabinet. The subsequent tutorials covering making, altering and embellishing the contents of the apothecary cabinet will post on the same day in the following weeks until the end of September.
On August 26 I'll post pictures of the sample apothecary and give you a supply list so that if you want to purchase any supplies before the event starts you will be able to, and you can work alongside the video tutorials. Alpha Stamps will be carrying the supplies to make the actual cabinet, collage sheet images, decorative paper, bottles, tins, etc., and lots of spooktacular bits and bobs to decorate both the cabinet and its contents. Supplies for the first tutorial will be available at Alpha Stamps on 8/26/12. The sample cabinet that I will demonstrate will be similar in size and design (framed out with spooky bits flanking the sides, a sign, stuff on the top etc.) as the one I made last year but won't look exactly the same.
For those who want participate in my giveaway for this event, you will have until the end of October to build your apothecary. When I post the pictures and supply lists for the project on August 26, I'll also post more details about the giveaway and unveil the prizes.
Thanks to all for your posts on the event and for adding the event badge to your blogs!!