A couple of months ago the folks at
Alpha Stamps
(Leslie the owner and Bella the Design Team Coordinator) asked me if I would like to be a Guest Designer. I was thrilled so of course I said yes. For those not familiar with Alpha Stamps they are an online company (based in the San Francisco Bay area) that designs and sells collage sheets and rubber stamps. They also carry a fabulous selection of collage supplies. I've been a customer for years. Back in May they sent me a box of circus themed Alpha Stamp products. There were collage sheets, circus themed papers, rubber stamps, blank Altoids tins, chipboard pendants and various bits and bobs. They asked me if I would design something with one of the Altoids tins and design something with the chipboard pendants. The design of the rest of the pieces was completely up to me. Here is a sneak peek of one of the Altoid tin pieces I created.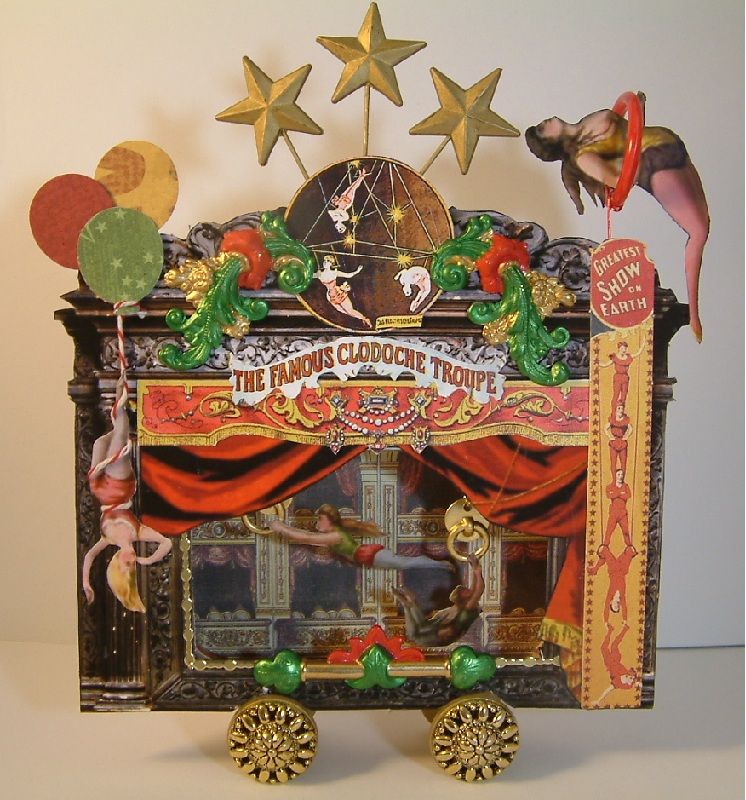 The wheels are made from wooden spools that have a hole on each end. I first painted the wheels then attached buttons by inserting the shank into the holes. The acrobat on the top is suspended in a plastic curtain ring that I painted with alcohol ink.
Close-up of the Inside
Alpha Stamps has a large collection of collage sheets with
theater background images
. I own them all. I used the images from one of the sheets for the inside of the tin. Removing the lid from the tin leaves two holes in the top which is how I suspended the acrobats.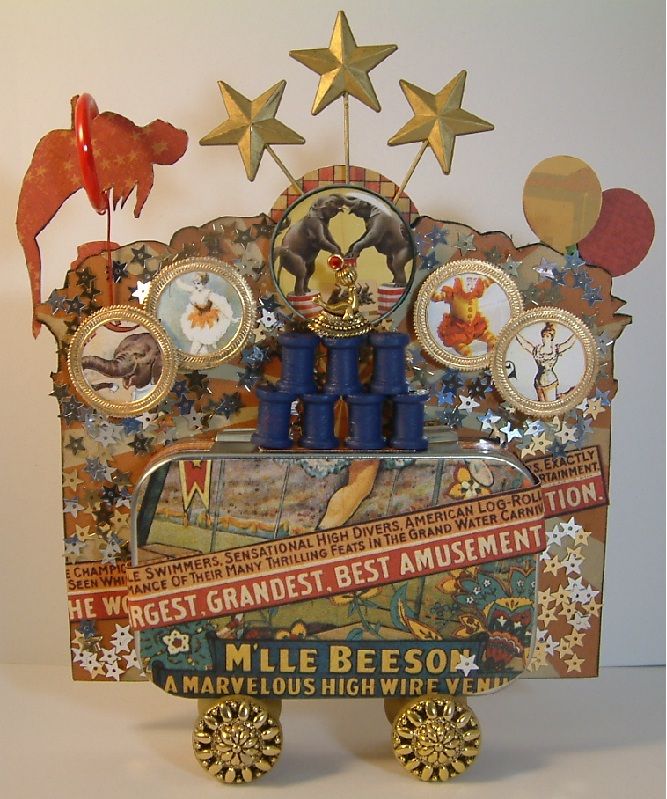 VIDEO TUTORIAL – There is now a YouTube video tutorial for this project. The video also covers 5 other altered tin projects. You'll find the segment about this project at minute 29:16 in the video below.
Below are the supplies used for this project. Clicking on the item will pop you over to AlphaStamps.