A couple of months ago the folks at
Alpha Stamps
(Leslie the owner and Bella the Design Team Coordinator) asked me if I would like to be a Guest Designer. I was thrilled so of course I said yes. For those not familiar with Alpha Stamps they are an online company (based in the San Francisco Bay area) that designs and sells collage sheets and rubber stamps. They also carry a fabulous selection of collage supplies. I've been a customer for years. Back in May they sent me a box of circus themed Alpha Stamp products. There were collage sheets, circus themed papers, rubber stamps, blank Altoids tins, chipboard pendants and various bits and bobs. They asked me if I would design something with one of the Altoids tins and design something with the chipboard pendants. The design of the rest of the pieces was completely up to me. Here is a sneak peek of one of the Altoid tin pieces I created.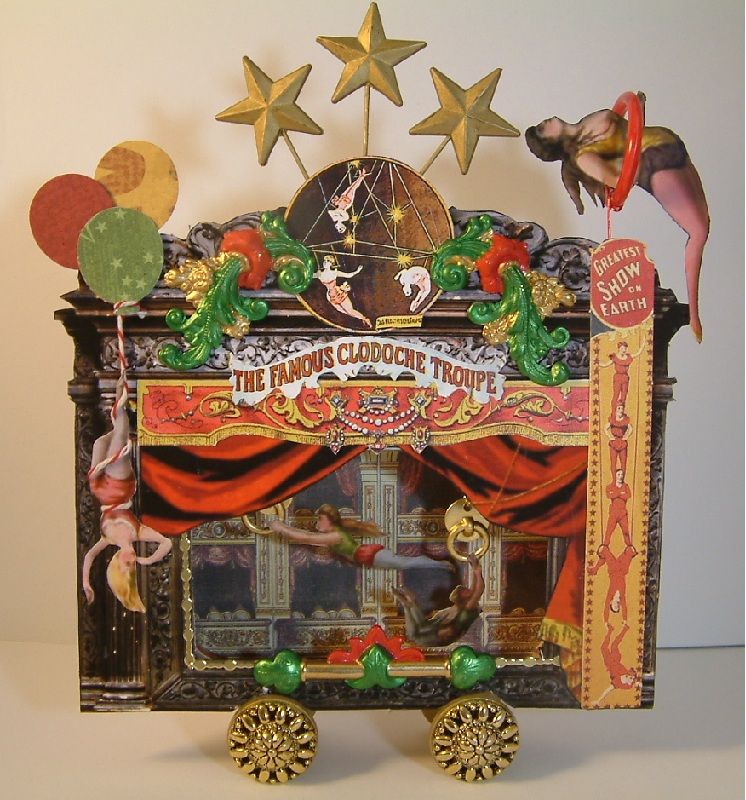 The wheels are made from wooden spools that have a hole on each end. I first painted the wheels then attached buttons by inserting the shank into the holes. The acrobat on the top is suspended in a plastic curtain ring that I painted with alcohol ink.
Close-up of the Inside
Alpha Stamps has a large collection of collage sheets with
theater background images
. I own them all. I used the images from one of the sheets for the inside of the tin. Removing the lid from the tin leaves two holes in the top which is how I suspended the acrobats.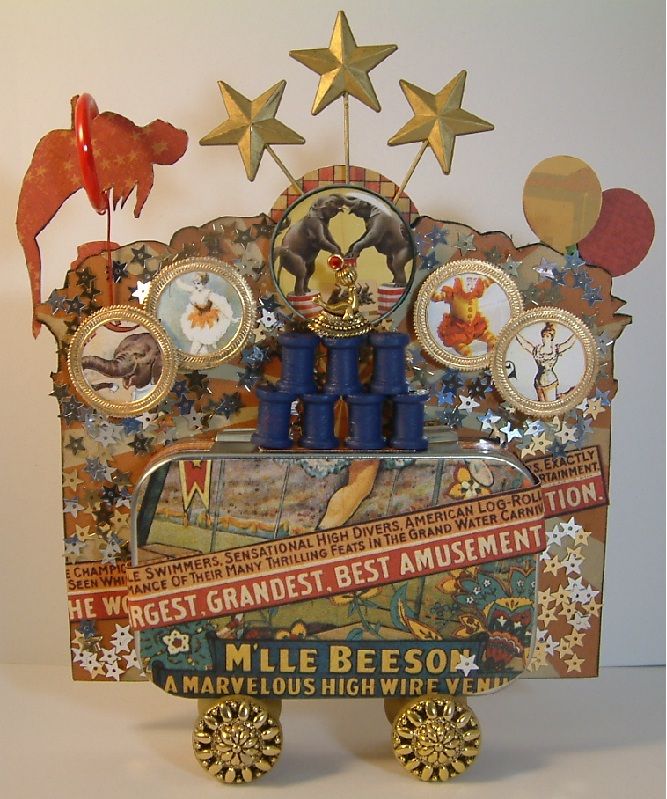 Here is a list of the Alpha Stamp Supplies I Used for this project:
Fashion Fancy Sequins - Stars
Collage Sheet – Slide Mailer/Shrine Stages
Collage Sheet - Circus Performers #1
Collage Sheet – Circus Performers #2
Graphics 45 Paper– Le Cirque Collection – Greatest Show on Earth
Graphics 45 Paper– Le Cirque Collection – Tags
One of the things that I love about Alpha Stamps is that in addition to the great shopping, they have an online art gallery filled with eye candy, a blog with more eye candy and product information, and they host a Yahoo swap group.
As a member of the group you can participate in a large variety of swaps and group members also enjoy discounts on selected products.
Two swaps have just been announced. One is to create a circus train piece like the one I created and the other is to create a chipboard circus book. Here is the link:
Stay tuned as the themes for next month (July) are Circus, Carnival and Magic.
I'll be posting the rest of the pieces I created for Alpha Stamps and lost more!