In Steamtown on Irongate Street is a beautiful house that has sat empty for too long.
Rumor
has it that a famous explorer has recently leased the house and will be moving in shortly.
Gossip flies around town as the residents try to guess who will be the new tenant.
The brick house is beautifully trimmed in stone and wrought iron filigree.
The front door and ironwork above are inset with antique stained glass.
On the second floor is a lovely balcony with French doors.
Although the inside is a bit worn, it still has great character.
The walls downstairs are covered in dark wood paneling, and the ceiling is made of tin tiles.
Upstairs the walls are covered with faded paper, and more tin tiles grace the ceiling.
It's a diamond in the rough, and how fun it will be to see just what the new tenant does with it, surely bringing their love of travel, exploration, and adventure to the decor.
This project was made possible by a NEW amazing 2 Story House Kit, Add-On Roof Kit, and Add-On Window Kit, plus Chesterville Scrapbook Papers, Slate Roofing Paper, Embossed Brick Paper, NEW Architectural Trims Digi Kit, and many other bits and bobs.
I've been chomping at the bit for a two-story house kit, and it was fun to help design it. For this project, I've used it as a house, but it would make a great two-story shop. The overall design lends itself to multiple facade styles. If two rooms are not enough, you can use multiple kits joined together to have as many rooms as you like.
In addition to the 1:12 scale house that I've used for this project, there is a
NEW
Half Scale 2 Story House Kit
&
Roof Kit
.
This project is just the start; in the coming weeks, I'll be decorating and furnishing the rooms and adding other elements to the exterior.
This set is packed with all kinds of trims and is sized to work with the new "Two Story House Kit, Roof Kit, and Additional Windows Kit" and other 1:12 scale projects. There are 68 pieces in total: 11 Tin Ceiling Tiles, 3 Ceiling Medallions, 4 Doors with 3 trim pieces, 10 Window & Door Casings, 6 Decorative Plaques, 10 Strips of Molding, 2 Pediments, 1 Bracket, 1 Sconce, 1 Finial, 2 Door Plates, 7 Keystones Pieces, 4 Paneling Pieces, 1 Round Window, 2 Angels. The scale is 1:12. To purchase this image set, click on the image below.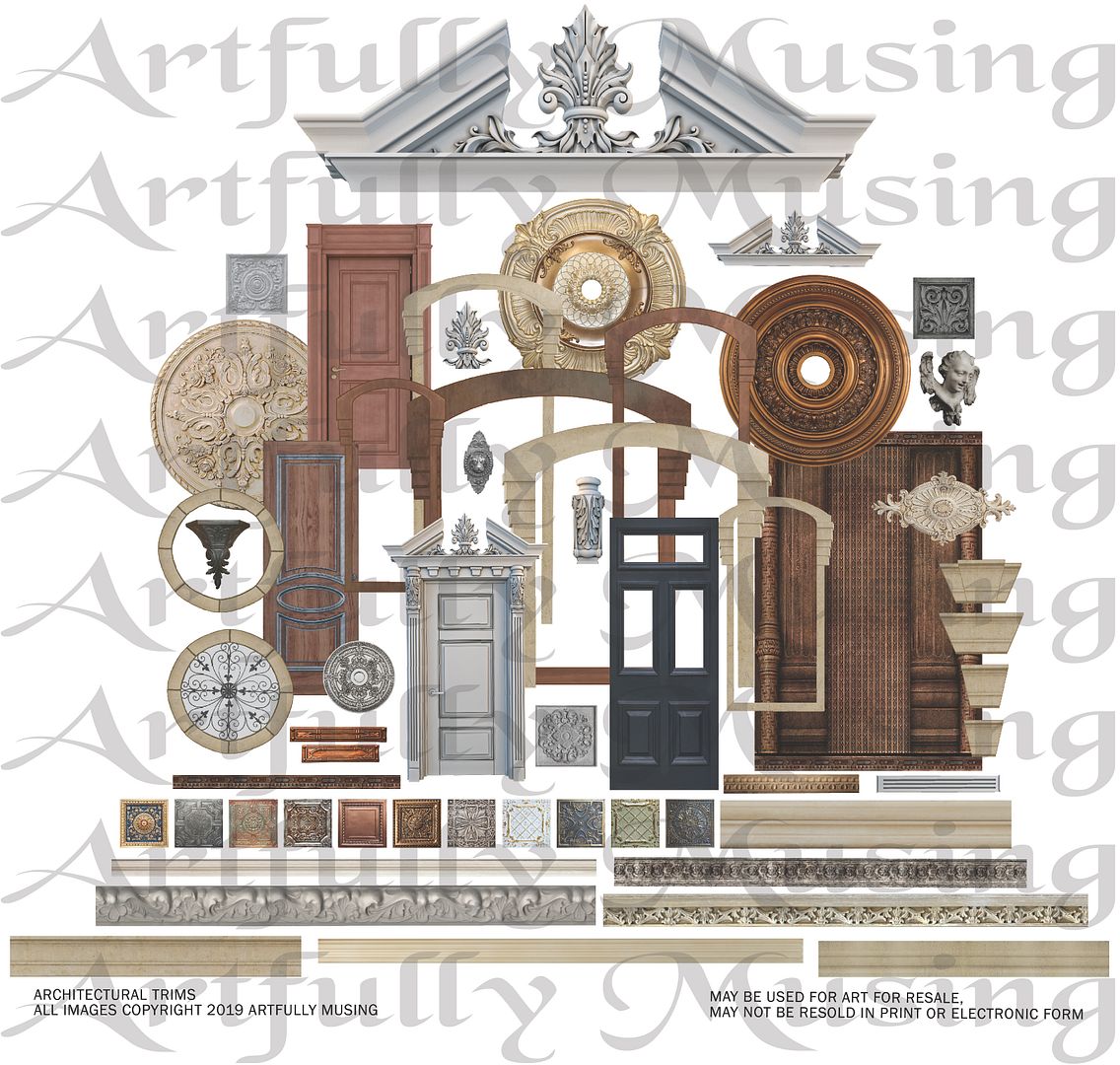 OTHER VIDEOS IN THIS SERIES
FREE IMAGES
FEEL FREE TO DOWNLOAD THESE IMAGES & USE THEM IN YOUR ART
WINDOW SCENE IMAGES COLLAGE SHEET
DETAILED SUPPLY LIST
2-Story Room Box French Quarter
Roof for 2-Story Room Box
Windows for 2-Story Room Box - Faux windows on the side
1:12 Brick Wall Sheet – Exterior Walls
Chesterville Whitford Scrapbook Paper – Outside edge stonework & roof
Chesterville Bretton Scrapbook Paper – Upstairs Walls
Dark Red Victorian Floral Scrapbook Paper

– Upstairs Walls
Chesterville Hargrave – Upstairs Floor
Chesterville Chester Scrapbook Paper – Downstairs floor
Brick Wall Scrapbook Paper – Downstairs walls
Wood Trim – Chair Rail
Wood Trim – Crown Molding
Mini Chipboard Wrought Iron Flourishes Set – Outside windows
Chipboard Wrought Iron Flourishes Set - Roof
12 x 12 Clear Plastic for Windows
Mini Lion Head Door Knocker
Bronze Door Handle and Keys Sets